Got a burning need to reroute audio around your Mac in order to record, process, or otherwise make it do things Apple never originally intended? Ambrosia and WireTap Anywhere 2.0 would like to chat with you.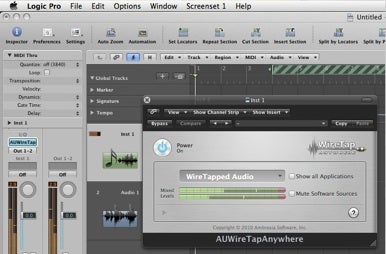 Ambrosia Software's WireTap Anywhere is a utility that lets you redirect audio from any program—or even hardware devices—into the software of your choice. Want to record both sides of a Skype conversation for editing later, or stream a Pandora track over iChat for a friend to enjoy? WireTap Anywhere is the Mac audio middleman for you.
New in WireTap Anywhere 2.0 is more fine-grained control over routing audio. You can create virtual input devices and assign them any number of audio channels, plus combine audio channels from both software and hardware devices into any arrangement you want. In addition, you can tweak per-channel audio levels both before and after you mix them, then preview the mix before you begin recording.
WireTap Anywhere 2.0 is available now for $129, and owners of version one can upgrade for $69. A free demo is available, and it requires Mac OS X 10.5 Leopard or later.