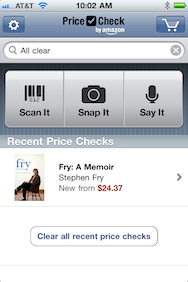 It's the holiday season once again, and you know what that means: shopping, shopping, and…shopping. How do you make sure you get the best prices on all those presents you're buying? Amazon's new Price Check app for the iPhone and iPod touch can help.
The idea behind Price Check is simple: you're in the store and you find yourself wondering whether that DVD is cheaper here on sale or on Amazon. Whip out your iPhone and choose your poison: sure, you could just enter the name of the DVD and search for it, but what's the fun in that? Price Check also lets you scan the barcode or just a snap a picture of the case. And if you don't mind being caught talking to your phone in public, you can even say the title and have Amazon search for it. (Many, but not all, of these features are also available in Amazon's existing mobile app.)
No matter how you search for the item in question, Amazon will return its product information on it, along with the price (or prices, if there are several sellers). If you decide it's cheaper to buy online, you can make your purchase right through the application, even using the 1-Click check-out procedure and taking advantage of your Amazon Prime membership if you have one. In addition, you can track packages, view and cancel existing orders, and manage your shopping cart.
Price Check is a free app and requires an iPhone or iPod touch running iOS 3.1 later.