Ah, Black Friday—the time of year when we all get wrapped up in the giving spirit by opening our wallets and giving lots of money to retailers. Apple has announced that on Friday, November 26 it, too, will once again fling open doors both physical and virtual for shoppers looking for great deals and gifts.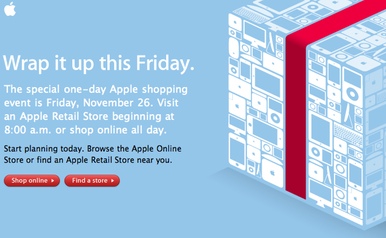 The " special one-day Apple shopping event" (apparently "Black Friday" is a little too concise for Apple) begins at 8 a.m. on Friday. You can nab your deals in retail Apple stores or online, but Apple is customarily mum on details as to what products or prices we can look forward to.
Apple's past Black Friday sales have featured marginal discounts for desktop Macs, MacBooks, and iPods, as well as accessories and even some software. The deals are not usually of the "doorbuster" caliber, though, so I don't recommend pinning your hopes on a $99 iPad to compete with the most recent contender for Worst Gadget Ever.
Until Friday morning, Apple invites you to get familiar with the store so you're prepared once the shopping games begin.