2Do is a stylish and powerful task manager from Guided Ways Technologies, built just for iOS devices. Last month it gained an iPad interface, and now a new update brings some much-requested features.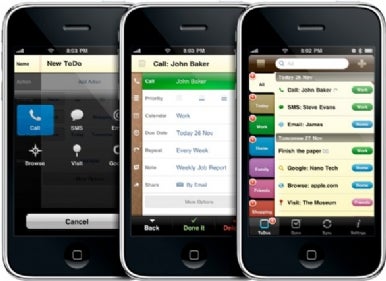 New in 2Do 2.4 is direct, over-the-air sync with MobileMe, available as an optional in-app purchase. While 2Do has previously been able to sync with iCal and—by extension—MobileMe, it required you to install a helper app on your Mac and be on the same network as said Mac to perform a sync. However, even though this new version of 2Do is available now in the App Store, Guided Ways Technologies says that the MobileMe sync in-app purchase option is still in review by Apple.
What you will get from this update is support for background sync on devices that support iOS 4's multitasking features. Besides the typical multitasking perk of reopening to the place or task you were performing, 2Do can also finish a sync operation in the background if you switch to another app mid-sync. Alternatively, a new option allows for syncing specifically when you exit the app so you don't have to worry about whether you remembered to sync the last time you ran it.
These new features bolster 2Do's already lengthy list, which includes Push and Local Notifications; syncing with Outlook and the Web-based task manager Toodledo; location tagging; actions like starting a phone call (even via Skype) or opening a Webpage when a task is due; repeating tasks; password protection; and more.
2Do 2.4 is available now in the App Store for $7. It's a universal app for iPhone and iPad, and requires iOS 3.0 or later.