Opera teased a major new version of its desktop browser last month, and now the first Opera 11 beta is here to offer an early taste of its—count 'em—11 new features.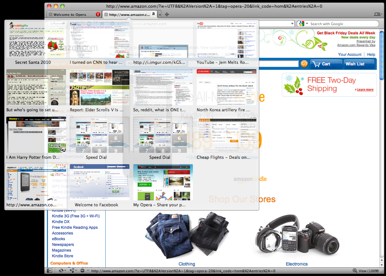 One of the most notable additions in the Opera 11 beta is a new "tab stacking" system that provides an elegant way to organize multiple tabs within a browser window. Simply drag one tab over another, and a "stack" is created which you can use to store dozens of tabs in a minimal amount of space. An expand/collapse icon appears next to stacked tabs, making it easy to quickly view the contents of a stack, or you can simply hover your mouse over a stack to view its tabs Exposé style.
Also new in Opera 11 is support for extensions, which add functionality to Opera much like Firefox, Chrome, and Safari enjoy. Opera has also integrated Google's new search predictions into its browser. When using Opera's search field or its address bar search options, Google search predictions should appear immediately.
Opera 11 beta also features a more fine-tuned browser engine with enhanced HTML5 support, making for faster page loads and Web applications that run more smoothly. A new "plug-ins only on demand" option makes it so that plug-ins, like Flash content, will only load when clicked on—a great way to boost your browsing speed if your computer struggles while juggling lots of plug-ins.
You can download the Opera 11 beta for free and view the full list of what's new at Opera's Website. Current Opera users are advised to backup their Opera files before installing—this is a beta release, after all.