We waited for years to see a SlingPlayer app arrive on iPhone, and we went hands-on and reviewed it once the placeshifting media company delivered. Now Sling Media is back with a separate version of its mobile app for the iPad.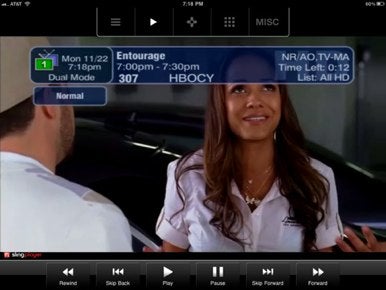 SlingPlayer Mobile for iPad is exactly what you think: a new iOS app that lets Slingbox Solo and Pro-HD owners watch and control their home TV and DVR from an iPad. You can view live media from your cable or satellite subscriptions, or stream something from your DVR, Apple TV, or even compatible home security camera systems. The program guide has been revamped for iOS's touch-friendly environment, and a "recent channels" feature makes it easy to get back to what you were watching. And the video quality is a lot higher than that available on the iPhone app.
Unlike the SlingPlayer app's debut on iPhone, AT&T didn't have to throw down its wireless hammer to defend its network this time around. The SlingPlayer app for iPad works on both 3G and Wi-Fi.
SlingPlayer Mobile for iPad is available now in the App Store for $30. Interestingly, it requires an iPad to be running iOS 4.2 or later.