Let's say you're off to a lecture at college, or a meeting at work. You'll need to take notes, but you've got a busy day, and you'll be running around a lot. You could take your laptop, though its weight may drag you down, or you could save your back some strain and bring your iPad instead. (The heaviest iPad weighs only 1.6 pounds compared to lightest laptop ever, the 2.3-pound MacBook Air.)
While you can't do everything on an iPad that you can on your laptop, it may be sufficient for those days when you just need to take notes in addition to some basic Web surfing and e-mail. (And if you add an external keyboard—the $150 Sena Keyboard Folio is particularly portable—the experience will be even more comfortable.) Here are some of the most noteworthy note-taking apps I've found.
Take-anywhere text editors
There are dozens of text editors available for the iPad that let you write, store, and share text files. Some of the programs use the iTunes' file sharing system, most let you send your files to yourself or others via e-mail, and some work with the popular Dropbox service, allowing you to sync your files automatically to other computers or devices. (For an explanation of how Dropbox works, see this Macworld video.)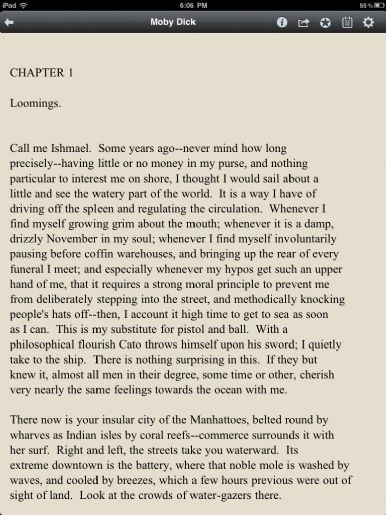 One of my favorites is Second Gear's $5 Elements ( ). Offering a minimal interface, Elements lets you read, edit, and store files using Dropbox. (Currently, it's limited to accessing its own folder inside your Dropbox folder.) That means it's easy to access your notes on your Mac, iPhone, or any other computer with Internet access. Elements doesn't offer fancy formatting. You can change fonts, font size, text color and text background, but that's about it. The app also includes a Scratchpad, where you can type small notes that you want to keep track of, but that you don't want to commit to a text file yet. You can e-mail files to others when you've finished, or access them from another device using your Dropbox account.
There are other Dropbox-compatible text editors, such as the $1 Nebulous Notes and the $1 Droptext, both of which offer access to files anywhere in your Dropbox folder, and have similar features to Elements. I found Elements' interface to be more comfortable to work with, but either of these $1 apps is a good choice for occasional note-taking.
Multi-purpose word processors
If you already have a copy of Apple's $10 Pages ( ), there's no reason not to use it for your note-taking. While its layout features probably exceed what you need when you're jotting down your thoughts, you may appreciate the increased flexibility with fonts, font sizes, and formatting. (For instance, you can add bold or italic to your notes, you can make bullet lists, and so on.) Pages is limited by the need to transfer files using iTunes' clunky File Sharing feature, but you can send Pages files by e-mail or copy them to your iDisk, if you have a MobileMe account.
If you prefer to work with Microsoft Word files, the $10 Documents To Go gives you a number of ways to edit these files. But it's not designed for creating documents, so this is a more useful option if you've already been working with Word documents and you want to add to them during lectures or meetings.
Specialized apps just for notes
A number of apps are designed more specifically for note-taking and offer special features to help make the task easier. Codality's Simplenote ( ; free with ads or $12/year for Simplenote Premium) is designed for taking and sharing text notes. The program connects with a Website so you can sync your notes and access them easily from multiple devices. It also helps you find what you wrote after the fact using tags and enhanced search features. If you're taking notes for a larger writing project, SimpleNote can also sync with Literature and Latte's Scrivener 2.0.
Evernote (free limited account or $45/year for premium account) for iPad connects to the Web, iPhone, and desktop versions of this service. You can sync your data among the different devices you use, from computer to iPhone to iPad and back. Jot down text, record voice notes within the application, and gather up relevant photos and Web pages. Evernote's powerful search features can even search text within images.
Rage Digital's $3 HelviteNote ( ) is good for those who need to take text notes and sketches. Use your finger (or a stylus like Ten One Designs' $15 Pogo Sketch or Griffin's $20 Stylus for iPad) to make simple drawings.
If you want an app designed with college coursework in mind, the $5 CourseNotes may fit the bill. This app is a one-stop shop for students: you can record audio notes of class lectures, create to-do lists with assignment due dates, track assignments, and share your notes with classmates. You can also sketch within the app and buy specially designed study sheets and templates.
A Swiss Army knife for notes, Alfons Schmid's $9 Notebooks for iPad goes far beyond what many other apps offer. The app gives you an astounding number of options for organizing and linking collections of documents, as well as importing and exporting both documents and text. It can be a great tool for collecting snippets or taking complex notes, and for working with a lot of different types of texts (for example, PDFs, Web pages, and Office documents). It can also sync with Scrivener 2.0, so users of that desktop application can easily work on their projects on the road.
Finally, the $3 Audiotorium lets you not only create text notes but also voice recordings. Any note can contain text and/or audio, and you can record hours of audio within a single note. This is a great way to record a lecture and take notes at the same time, so you can listen to the lecture later and revise or augment your notes. Audiotorium is a pretty app with a chic, tabbed interface that looks like leather and classy paper. It also comes with a good set of features, such as Dropbox syncing as well as a built-in server so you can download documents from your iPad to any computer.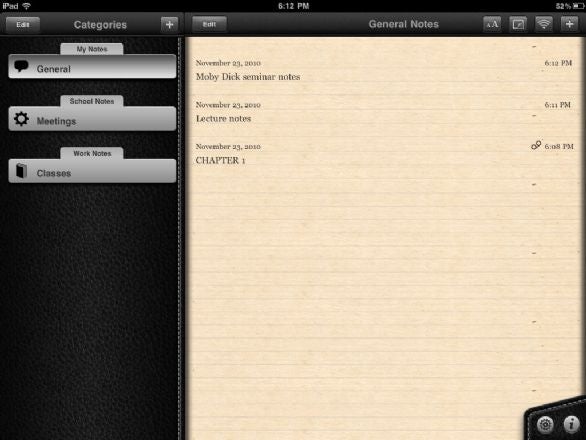 Apps aplenty
With all the options available for taking notes on your iPad, the main decisions you need to make are whether you want text-only notes, or whether you need to be able to draw or record voice notes as well. If you want to format your notes, or turn them into complex documents with chapters and other information, there are tools for that too. From simple to richly featured, there's an app for every type of note-taking.
Senior contributor Kirk McElhearn writes about more than just Macs on his blog Kirkville. Find him on Twitter at @mcelhearn. Kirk's latest book is Take Control of iTunes 10: The FAQ.
iPad (1st generation) Family