It can be hard to get excited about chat apps these days. But when it comes to a new portable device like the iPad and 37signal's Campfire service, you have my attention.
If you've never used Campfire, 37signals essentially combined the advantages of the old school IRC (Internet Relay Chat) from days of yore with AIM chat rooms, then sprinkled in a few new tricks and targeted the service at businesses. You can create multiple rooms and invite coworkers to some or all of them, open the rooms up to the public, share files and view pictures in-line, use 128-bit encryption for all correspondence, set room topics, and even hold a conference phone call that gets recorded and archived for later.
One of the best parts of Campfire is that chat logs are persistent across sessions and devices. You can login with your browser at work during the day, walk to the train for your commute home, then open Campfire for iPhone once you get a seat to check in on anything you missed or even search back through the chat logs for the day, week, month, or farther back.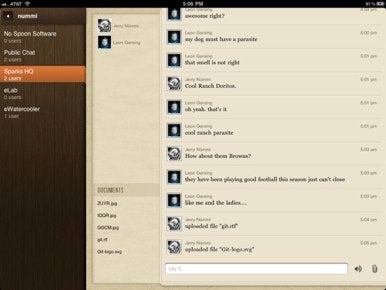 No Spoon Software (easily my favorite software shop name in a while) has brought Campfire to the iPad with style and some unique features with Sparks. The company ran with the "campfire" motif, designing the interface with textures like wood and parchment. You can add multiple "campsites" (rooms, or Campfire accounts), tap users to automatically fill their name for a reply or compose an in-app e-mail, upload images from from the Photos app, and specify keyword alerts for any room. Sparks can also check Gravatar, a "globally recognized avatar" service for Websites, blogs, and other Internet hangouts, to display icons for each of the room's chatters—something Campfire itself doesn't even do.
I tested Sparks in our Macworld Campfire room as I wrote this post, and I'm impressed. This by no means counts as a Macworld review, but Sparks so far seems well designed, fast, and has plenty of polish and clever features that make Campfire feel at home on the iPad. Sparks is certainly not the first Campfire client for iPad—Torch Campfire and Pyre have been around for months—but No Spoon Software has gone all-out to produce a great iPad Campfire experience.
If that still doesn't pique your curiosity, No Spoon Software has laid out some interesting features coming in future updates, including multi-room message sharing, Dropbox document sync, and integration with 37signals's sister Backpack service which, again, is something that 37signals does not even do natively in Campfire.
Sparks is available now in the App Store for $8. It requires an iPad running iOS 3.2 and a Campfire account. Campfire plans start at the low price of free with up to four chatters, 10MB of storage space, and no SSL encryption. Paid plans start at $12 per month for 12 chatters, 1GB of space, and SSL encryption.