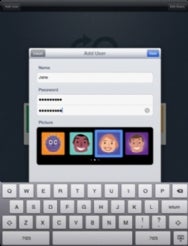 A new Web-browsing app for the iPad lets users share their device with friends and family while keeping their surfing history and bookmarks private.
Switch, a multi-user browser, was launched last week by developer Michael O'Brien. The app lets multiple users share a single iPad by giving them the ability to create a number of personal, password-protected accounts within the app. A user who leaves the app and returns to it later will find everything, including open tabs, just as they left it—even if a user with a separate account uses the app in the meantime.
The app also includes a "guest" mode that erases the history, passwords, and cookies of a single-time user of a device. O'Brien says the app also lets users who have multiple accounts on a single Website easily switch between those accounts without having to retype their passwords. Switch is being pitched to families who share a single iPad, as well as developers who juggle admin and user accounts on sites they're creating.
Switch is $5, and is compatible with iPads running iOS 4.2. O'Brien says that version 1.1 will debut soon, with support for devices running iOS 3.2 or later.