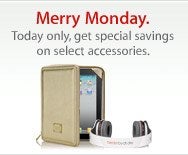 If Black Friday got its name as the day retailers' balance sheets get in the black (and out of the red), then Cyber Monday must be the day they get to…nope, I got nothing. Whatever you want to call the day that Internet holiday shopping supposedly kicks off, Apple has given you a few more reasons to join the fray.
The company has shifted its Black Friday discounts from the Mac, iPod, and iPad to third-party accessories. The Beats Solo HD headphones by Monster and Dr. Dre, for example, are currently on offer for $180, and the G-Technology Mobile Hard Drive is $90—each a 10 percent savings over the item's usual pricing.
Whether you're on the prowl for holiday gifts, or just something for yourself, Apple's offering deals on a number of accessories for its products, among them discounted speakers, iPad and iPhone cases, handheld video cameras, and a plug-and-play keyboard for use with GarageBand. The company's free shipping deal for orders of more than $50 is also in place for the shopping season.