At a Glance
Expert's Rating
Pros
Professional presentation and distribution packages for PDF and other document types
Powerful document processing
Point-and-click macro system
Nearly perfect content export to Word and Excel
Reader X can now highlight and comment on PDF files by default
Cons
Menu commands and tools spread all over the application
Many features hidden behind easily missed customize button
Find box removed
Our Verdict
Acrobat X Pro is an impressive release, with new features and improvements for anyone who creates or works with PDF files.
Acrobat, like many mature products targeting a wide range of users, suffers from feature bloat. There's something in it for nearly everyone, but unfortunately Adobe is still struggling to find the best way to provide users with quick discovery and easy access to every function.
Confusing interface
The first thing you'll notice about Acrobat X Pro is, of course, its new user interface. Sadly, this streamlined interface is not an improvement. Instead of merely navigating through some 20 menus on the application bar and toolbars to find a particular function, as you did in Acrobat 9, you must now search through the application bar menus, the icon toolbars, and three sidebar-styled task panes loaded with vertically arrayed commands—nearly half of which are hidden by default. Adding a watermark in a PDF used to mean choosing the Document -> Watermark -> Add… command. In Acrobat X, the command is now in the Tools task pane, in the Pages section, under the Edit Page Design section's Watermark menu. To send a PDF for either a shared or email review, you must remember that those commands are no longer in menus, but now in a section of the Comment task pane. That seems odd because I'd expect them to be in the Share pane.
On one hand, the task pane's commands look more intuitive than the copious menus of previous versions. And, Adobe has recognized that most of us now use widescreen monitors. On the other hand, not all commands are located within the three panes—at least, not without customizing the app, which many Acrobat users won't do. Some commands, like design mainstay Preflight, and the critical Accessibility Setup Assistant, now live only in the Edit menu—an unlikely place. Both commands—and many more—can be added to the Tools task pane by clicking the tiny button at the top of that window and enabling the display of the Print Production and Accessibility panes. The average Acrobat user probably won't know how to customize which sections show in the Tools pane, and consequently will be left poking around to find many commands integral to their workflows.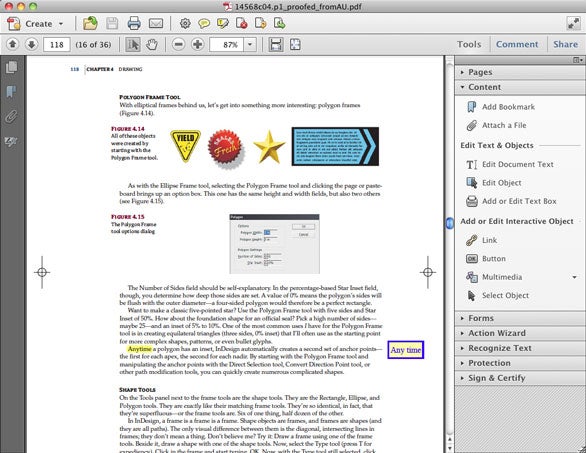 A new Quick Tools bar across the top of the Acrobat X window provides access to common commands. By default, Quick Tools includes buttons for creating, opening, saving, sharing, and printing PDFs, adding sticky notes and highlights, and inserting, deleting, and rotating pages. You can easily customize the Quick Tools bar to include nearly any command available in Acrobat.
I would like to see the Acrobat team take a cue from distant cousin Flash ( ) and certain other Creative Suite apps by offering workspaces. Flash, for example, offers optimized workspaces for different types of users: Designers can easily access the controls and tools they use while keeping the programmer-centric features out of the way. Thus, instead of throwing the kitchen sink at every user—or squirreling away features and commands in obscure places—the program should ask users at installation what they want to do with Acrobat.
Acrobat already contains copious wizards: What's one more to ascertain which features a user needs and automatically create an uncluttered, customized interface?
Document presentation packages
One of the most exciting improvements in the new Acrobat is the expanded and highly customizable PDF Portfolios feature. A PDF Portfolio distributes a set of electronic files—not only PDFs but any files—in a single package offering a professional, pleasing, optionally branded experience. You can send or simply present an entire proposal or presentation within a PDF Portfolio document, complete with native Excel spreadsheets, Word or Pages documents, PowerPoint or Keynote slides, HTML, images, video, audio, Flash content, and installable software. A PDF Portfolio document resembles a ZIP archive, except that the recipient doesn't need to extract the constituent files in order to use them. The PDF Portfolio, once opened in Acrobat or Reader, provides a visual interface for viewing, editing, or extracting the included documents and media. The PDF Portfolio interface is highly customizable with engaging layouts, configurable themes and colors, and background images.
Acrobat X Pro's PDF Portfolio feature packs five portfolio layouts in the box—Click-Through, Freeform, Grid, Linear, and Wave. Although Acrobat 9 Pro offered nine layouts, those available in Acrobat X are nicer, more modern, and through their options, actually include all of the layouts available in the last version. You can import additional layouts (from Adobe as well as third parties) via a button in the Create PDF Portfolio wizard. Even after you start a portfolio, you can switch between any stock or imported layout, and then customize the colors, fonts, and backgrounds individually or by selecting pre-built visual themes.
Automating repetitive tasks
If you're always looking for ways to automate repetitive tasks, Acrobat X Pro's new custom actions—built with the Action Wizard—is just what you've been waiting for. Using a visual point-and-click builder dialog box, you can chain together any number of commands and functions into a macro-like action. These actions can be shared among other Acrobat X users.
Although the possibilities of actions are endless, the ones included with the program offer examples of what you can accomplish, such as initiate document reviews, reduce file size, perform secure redactions, and more. Whether starting from a pre-built action or from scratch, just about anything you can manually do to a PDF in Acrobat can be performed via an action.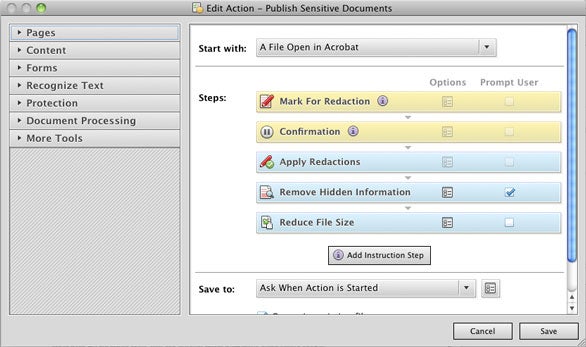 New Reader commenting tools
Although this review is about Acrobat X Pro, the PDF creation tool, PDFs are created to be read—often with the free Adobe Reader. Therefore, improvements to Adobe Reader X's experience are important to PDF producers.
Until now, Reader users have been unable to mark up and comment on PDFs unless the file creator specifically enabled that feature. With this version, Reader X users can highlight text and add sticky notes to any PDF file, regardless of whether the PDF producer activated the advanced Reader commenting features in Acrobat 9 or earlier versions. In fact, users of Adobe Reader X can even comment on specific video frames embedded in a PDF.
If your PDF readers need even more document modification capabilities, such as digitally signing a document or adding drawing mark-ups like callout boxes, arrows, and stamps, the creator must still enable that function in Acrobat X Pro. The command has moved, however. Now, you must choose File -> Save As -> Reader Extended PDF and then select either Enable Adding Text in Documents (that are not fillable forms), Enable Commenting & Measuring, or Enable Additional Features. The additional features are the ability to save form data from a fillable form, sign a signature field, digitally sign the document, and use all of Reader's built in commenting and drawing mark-up tools. Files can also be Reader-enabled automatically as part of the process of creating a shared review.
Microsoft Office export
The PDF file format was originally conceived as a final distributable unit—meaning that content distributed as a PDF would never need to be converted to or extracted for other uses. Despite that, frequently we want to get textual content out to a word processor and tabular data into our spreadsheet applications from finished PDFs. Adobe has addressed these needs by improving content export functionality over time. Acrobat X is the best version yet, exporting accurately formatted content to Microsoft Word, Rich Text Format, and HTML, and XML and tabular data to Microsoft Excel and XML spreadsheet formats. Within Acrobat X, simply choose File -> Save As and pick the desired output format from the submenus.
I tested PDFs created from Adobe InDesign ( ), QuarkXPress ( ), and Microsoft Word ( ) documents. The types of documents varied from entirely textual single-column pages with lots of formatting (many fonts, colors, and styles) to multi-column documents with floated and anchored images and inline tables. I then saved these PDFs as Word (.docx) and Word 97–2003 (.doc) formats. It took Acrobat X Pro longer to convert the same documents than Acrobat 9 Pro, but the results were well worth the extra minute or two. With few exceptions, I was astounded by the visual fidelity of the conversion. In each of my test documents the text formatting was beautiful—fonts, sizes, colors, even bullets and numbers were preserved, although the bullets and numbers came across as selectable text, as opposed to non-selectable graphic ornaments. Images were included in the Word documents where they existed in the PDF, positioned if not precisely in the right places on the page, at least as close as Word's limited understanding of layout allowed.
The results I got from exporting tabular content to Excel and XML spreadsheet format were also impressive. Formatting came through crystal clear, including most cell strokes and background shading. I did notice that very light shading—say, 10–30 percent of a color—didn't always survive the conversion from PDF table to Excel table.
More details
In terms of speed and performance, I found Acrobat X Pro to be about the same as Acrobat 9 Pro. That conclusion is based on tests such as creating PDFs from different sources, combining multiple PDFs, running OCR on scanned documents, searching for keywords in documents, and using various wizards.
Speaking of searching, there is no longer a Find or search field visible in Acrobat X Pro. You can still search for text in documents, of course, by pressing CMD+F to pop open a temporary Find field. I doubt most users, especially that large portion of online users who employ their browsers' Google Search field as an address bar, will recognize that they can still search within PDFs. (Adobe says its test users had no trouble invoking a search on their own without the box.) I think removing the previously omnipresent Find field from Acrobat's toolbar is a big mistake—especially since the Common Tools toolbar, the one underneath the Quick Tools toolbar containing the navigation, zoom, and task pane buttons, has so much empty and now wasted space. However, you can insert a Find text button (which gives you a field when you click it) into that space, if you want to.
In addition to a handy feature that shows you the strength of your password, Acrobat X also boasts some other niceties. While scanning a document, Acrobat now automatically detects whether the document is in color or grayscale, adjusting options to compensate. OCR character recognition has also been strengthened to return fewer misspellings on scanned documents. A new Read Mode unclutters the interface, maximizing the space available for reading, and showing a navigation bar only when you hover your mouse over the document.
Acrobat X Pro is tightly integrated with online and server systems, too. Documents may be sent for review via Acrobat.com, and very large files, such as those that might result from combining an array of documents into a PDF Portfolio, may be distributed via the new SendNow file hosting service of Acrobat.com.
Macworld's buying advice
If you can manage to find all the commands you need in the menus, task panes, Quick Tools, or other toolbars, you'll find that Acrobat X Pro is a fantastic program with universal function improvement, phenomenal content-exporting capabilities, incredible power to automate task- and document- processing, and compelling document-distribution capabilities. Unfortunately, Acrobat X's messy and unintuitive new user interface throttles the excitement somewhat and makes this less than a must-buy application.
[Pariah S. Burke, a Portland-based design and print and e-publishing workflow expert, is principal of Workflow:Creative working with studios, agencies, and publications around the world. He is the author of Mastering InDesign CS5 for Print Design and Production (Sybex, 2010) and other books, and the host of the ePublishing Workflow Seminar Series .]