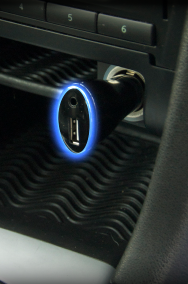 Accessory maker New Potato Technologies has released the TuneLink Auto, an in-car audio solution for iOS devices that lets you stream audio to your car stereo using a combination of Bluetooth and an FM transmitter or traditional auxiliary cable.
The TuneLink Auto plugs into your car's power jack and interfaces with your iOS device via Bluetooth. The front of the device sports a USB port that lets you keep your device charged while you use it and a 3.5mm line-level audio output jack to transmit audio directly to your car's auxiliary audio input. If your car's stereo doesn't have an aux-in jack, don't worry: the TuneLink also has a built-in FM transmitter.
The TuneLink Auto is controlled by a free TuneLink application available at the App Store, which lets you set the channel of the FM transmitter as well as adjust your Bluetooth settings.
TuneLink Auto also keeps the driver's safety in mind by reducing distractions; when a call comes in, the app automatically switches to your existing Bluetooth or wired headset. When the call is finished, TuneLink switches back to playing your music, so you can easily take calls without taking your eyes off the road.
At $100, the TuneLink Auto is one of the pricer car audio options on the market, but for those who don't relish having to connect cables every time they hop in their car, it might be an attractive option.