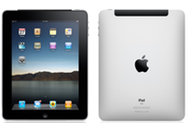 Psst! Want a free iPad? In a deal that sounds too good to be true and yet somehow is not, Softbank Mobile is giving away the 16GB Wi-Fi + 3G iPad! The only requirements are that you agree to a two-year service contract, and that you live in Japan (which is where Softbank does business).
As Engadget reports, the Japanese mobile company really will give away the 16GB iPad to customers who sign a two-year 3G contract costing ¥4,725 each month, which is approximately 56 bucks at this writing. And if I'm reading that Google translation correctly, the 3G plan is in fact unlimited data.
Japanese customers who want to take advantage of the deal can start signing up December 3, and the window will close on February 28, 2011.