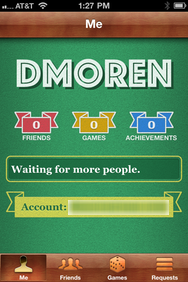 Apple has made a small but important change to the way Game Center lets users make new friends to play with or against. The company made its announcement not via press release, but with a new terms of service agreement when starting the Game Center app.
Apple's first social networking service now uses the full name associated with your Apple ID when you send a friend request. You can still set any nickname you want for your account if you prefer friends to identify you in Game Center by your alter ego or gaming avatar. But for your initial handshake when making a new friend, Apple wants you and your new foe recipient to exchange what are presumably your real names.
You can use a different Apple ID for Game Center from the iTunes Store account that you use for purchasing media and apps on a device. Since Apple IDs are free, you may be able to set a first and last name different from the name on your main iTunes Store account. But this seems to be a move to make creating relationships in Game Center more personal, like Ping, Apple's other social network focused on music purchases in iTunes. Ping is based on the Apple ID that you shop with in the iTunes Store, which means that you also exchange your full Apple ID name when adding new friends.