There is no shortage of iPhone clients for Basecamp, 37signals's Web-based project and collaboration service. But Select Start Studios recently gave its client, Headquarters, the 2.0 upgrade treatment, bringing a few key new features and a redesign that raises the bar for what a good project management app should look like.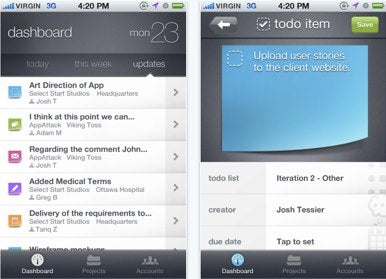 As with any big overhaul like the one Headquarters just got, the new interface will most likely catch your eye first. Gone are the black bezels and generic icons, replaced by subtle, inviting gradients and colored icons that more accurately identify Basecamp elements like to-dos, events, and comments.
More than just a pretty new face, Headquarters 2 can now store your to-do lists offline, and it supports full HTML styling in Basecamp messages and comments. A round of performance improvements has also made the app faster and more reliable. This is all in addition to existing features like support for Basecamp milestones, messages, and multiple accounts, as well as a "dashboard" area that can collect important and due items from all your accounts in a single place.
Headquarters 2 is available now in two versions in the App Store. A free Headquarters Lite version lets you manage one project under one account, while the full $5 version offers unlimited projects and accounts. Both apps require an iPhone or iPod touch running iOS 3.0 or later.