At a Glance
Expert's Rating
Our Verdict
Most Mac Gems are Mac software, but I occasionally cover a Web service if it's especially useful, and today's Gem, NudgeMail, is just that. If, like me, your e-mail Inbox serves double duty as both an Inbox and a sometimes-task-manager—I often send myself an e-mail to remind myself to do something—NudgeMail will be right up your alley.
NudgeMail, currently in public beta but essentially available to anyone, is a clever service that lets you send yourself reminders—for tasks, appointments, what have you—at specific times. Need to remember to call your dentist Tuesday morning? Just send an e-mail message with the subject Call dentist to tuesday@nudgemail.com, and Tuesday morning, NudgeMail will send you a reminder message with the subject Call dentist. Don't want to forget to check the dryer in 20 minutes? Send a message to 20m@nudgemail.com and in 20 minutes, NudgeMail will give you, well, a nudge. NudgeMail sends the reminder to the address from which you sent your request—you don't even need to sign up for an account.
NudgeMail's command syntax is both flexible and easy to remember. In addition to specific times and days, you can, for example, set reminders for tomorrow (tomorrow@nudgemail.com), a specific day next week (nextwednesday@nudgemail.com), the first of the month (december@nudgemail.com), the first of the year (nextyear@nudgemail.com), a few hours from now (3hours@nudgemail.com), or a specific date (12252010@nudgemail.com). NudgeMail also offers an option—EOD@nudgemail.com—to receive a reminder at the end of the day (6pm).
If you'd prefer not to have to type a different e-mail address each time you use NudgeMail, you can instead send all commands to nudge@nudgemail.com, putting both the time and subject of the reminder, separated by a colon, in the message's subject field—for example, 900am12302010: Change Netflix Plan.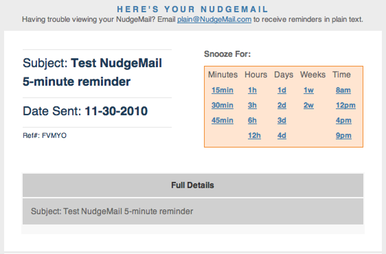 You can put whatever content you want in the body of your reminder message. If you want your reminder to include details from another e-mail message, you can even forward that message to NudgeMail—as long as you change the subject to indicate the reminder time or date, NudgeMail will send the reminder with the forwarded message intact. This is a convenient way to deal with an e-mail message later without having that message clutter up your Inbox in the interim.
Whenever you request a reminder, NudgeMail sends you a confirmation message. While these confirmations can be annoying if you use the service frequently—who needs more messages?—they serve a couple useful functions. First, they give you the peace of mind that your command was accepted and that it's set for the desired time. Second, they serve as a way to modify your reminders. For example, if you want to change the time of a particular reminder, you simply reply to its confirmation message with the new time in the subject field; you can cancel a reminder by replying with remove in the subject field. (You can, however, disable confirmation messages if you prefer.)
Reminders requested without a specific time—for example, "tomorrow"—are sent at 6:30am by default, but you can change this setting for all future reminders by sending an e-mail to nudgetime@nudgemail.com with the desired time in the subject field.
If you can't deal with a reminder immediately, the body of the reminder message contains convenient links for "snoozing"—in other words, for having the message re-sent later—for 15, 30, or 45 minutes; 1, 3, 6, or 12 hours; 1, 2, 3, or 4 days; 1 or 2 weeks; or just until 8am or 12, 4, or 9pm the same day.
Finally, NudgeMail offers a few options for managing your reminders. You can send commands to NudgeMail to see a list of all pending reminders (status@nudgemail.com), to get a daily list of pending reminders (dailystatus@nudgemail.com), to cancel all pending reminders (delete-all@nudgemail.com), to see a 30-day history of reminders (history@nudgemail.com), and more. There are also settings for toggling the format of reminder messages between styled and plain text, temporarily changing your time zone, toggling the date format between MMDDYYYY and DDMMYYYY, and temporarily disabling all reminders.
Of course, NudgeMail depends on your e-mail system being reliable. And there are a few useful features it doesn't offer—for example, you can't set up repeating reminders, and if you send a request with an attachment, that attachment is stripped from the reminder message you receive. (By default, you'll receive an alert whenever you send a message with an attachment.) And while the service is currently free for unlimited use, the company says that once the beta period is over, NudgeMail will likely have free and "premium" levels, with the latter adding new features.
For some people, a dedicated task-management program will always be a necessity. But if you spend much of your productive time in your Inbox, NudgeMail just may help you be more productive.
UPDATED (11/30/2010, 11:43am): According to the developers of NudgeMail, recurring reminders and support for attachments are coming soon. Also made minor command edits based on feedback from the developers.
Want to stay up to date with the latest Gems? Sign up for the Mac Gems newsletter for a weekly e-mail summary of Gems reviews sent directly to your Inbox. You can also follow Mac Gems on Twitter.