The Washington Post for iPad is a strong-but-not-perfect news offering, a free (for now) app from the Washington Post Company that combines the best features of print navigation with the immediacy of 21st-century electronic journalism.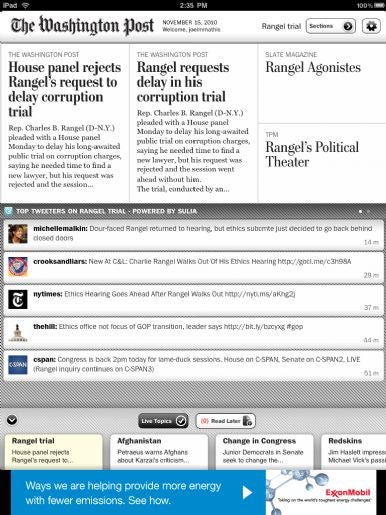 The app makes good use of the iPad's multitouch screen. Flipping between sections — or between stories in a section — is as natural and easy as swiping your thumb. It's a pleasure to operate, and a clear improvement over the New York Times' much-discussed iPad application, which largely requires users to use menus for navigation. The Post app also features "live topics," a roundup of recent stories about hot issues, paired with Twitter commentary from well-known pundits.
What the app needs, though, is a stronger editor guiding content decisions. There's no way to directly access the Post's sometimes infamous lineup of political blogs, but posts from those blogs can be found scattered among regular news articles in the app. That's a nice way of recognizing the importance of new media in the Post's universe, but also tricky: blogs are often cumulative, and ripping posts out of their blog context can be confusing to a reader. A related problem: content is sometimes difficult to find. A recent op-ed calling on President Obama to resign was one of the most talked-about articles on the Web, but nowhere to be found on the app.
The Post will start charging a subscription fee of $4 a month in February. With some small changes, it will be worth it.
[Joel Mathis is a freelance journalist and political columnist for Scripps Howard News Service. He lives in Philadelphia.]
Note: When you purchase something after clicking links in our articles, we may earn a small commission. Read our affiliate link policy for more details.