Platformers—games in which you control a character who leaps from platform to platform—have a long and honorable history. While Big Bucket Software's The Incident clearly owes a debt to platformer titles that have come before, especially in its retro 8-bit style graphics and soundtrack, you might also say it turns the genre on its head.
In The Incident, you're everyman Frank Solway, who's waiting patiently for a taxi when the sky suddenly starts falling. Well, not the sky exactly, but pretty much everything else in the world: bicycles, traffic lights, cars, signs, furniture, knickknacks, and all manner of inanimate objects. It's your job to keep Frank on top of the ever-growing pile of detritus, leading him onward and upwards in his goal to figure out what's behind—or above—the eponymous incident.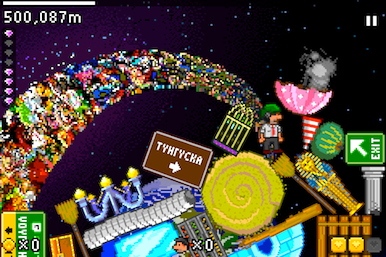 The game, which is optimized for both iPhone and iPad, has only a couple of controls: you tilt your device in one direction or the other to make Frank run that way (you can adjust the sensitivity in the game's Settings screen) and you tap anywhere on the screen to make Frank jump. Should you get stuck under a clump of debris, you can also shake your device and Frank will find himself in a little ectoplasmic bubble that lets him float gracefully to the top of the heap (use it sparingly, though, as it takes a while to recharge the power). Beyond that, it's really up to your reflexes to keep Frank from getting bonked on the head; three bonks and he's toast.
A blinking white bar at the top of the screen gives you a heads up about the size and location of incoming objects, though as you progress, that lead time gets shorter and shorter, and the objects come at a faster and more furious clip. Fortunately, Frank can grab power-ups, including an indestructible helmet that lasts for a few seconds and health packs that will restore some or all of his life. In an interesting twist, all the power-ups are attached to balloons, so they rise from below you. In addition, you'll find balloons bearing coins—collect ten of those and you'll earn an extra life. Every once in a while a gem, some of which will grant you an extra life, will fall from the sky. But watch out for balloons bearing curses that will sap part of your life, as well as those that will shift you back down a few meters.
Despite its seemingly simple gameplay, make no mistake: The Incident is challenging, especially in its later levels. There are eight in total, starting from the street and rising all the way to space; beating one will unlock the next. Each level is subdivided into a number of checkpoints, denoted by a line of colorful flags; jump past one of those and the next time you die, you'll restart the level at that point—at least until you run out of lives, at which point you'll have to start at the beginning of the level again.
There's a lot to like about The Incident, not the least of which is the game's sense of whimsy. I've been killed by a redwood tree, a midcentury-modern door, a boombox, a cannon, a DeLorean, a PowerMac, one of Carcassonne's meeple playing pieces, and more road signs than I care to remember. The 8-bit art is gorgeous and perfectly suited to the style of the game, and it's accompanied by a similarly retro soundtrack—though it's sometimes hard to stop and appreciate both features when items are hurtling down at you.
Most of all, though, it's the developers' willingness to continually improve and expand the game that keeps me coming back. A few versions after the game's initial release, Big Bucket added a new ability: using Wi-Fi or Bluetooth to turn your iPhone into a controller while the game is running on the iPad. Even more recently they supplemented that with another clever feature: support for hooking the iPad up to a monitor or HDTV using a video-out adapter. (Though it's not without some quirks; VGA output works better than composite or component cables, which can sometimes show an interference pattern below the game window until you restart your iPad. Still, it's an ambitious feature that turns your iPad into a game console of a sort.) And the developers dropped in an infinite Endless Nightfall mode that challenges you to see just how high a score you can attain.
Integration with Apple's Game Center means you can also compare your accomplishments with your friends; support for Twitter lets you brag about your most recent high score upon your death, if you're so inclined.
About the only complaint I have with the game—and it's a minor one—is that there's currently no way to import your game from one device to another, meaning you'll have to replay all the levels again if you're switching from iPhone to iPad, for example. But as it's really just an excuse to play more, it's not a huge gripe.
I haven't yet managed to reach the mysterious source of The Incident—I'm almost there!—but it takes a rare game, especially on a handheld device like the iPhone, to motivate me to get all the way to the end. The Incident's balance of challenge and fun has kept me coming back, despite the repeated crushing blows to my—well, Frank's—head.
[Senior Associate Editor Dan Moren is mere meters from beating The Incident's last level.]