Steve Young was an excellent football player during his career. One of the first real dual-threat quarterbacks, Young could both throw and run—he gave opposing defenses fits. So it's odd that Steve Young Football, from Vaporware, is not a football game but instead an obstacle avoidance game. Worse yet—it's not a very good one.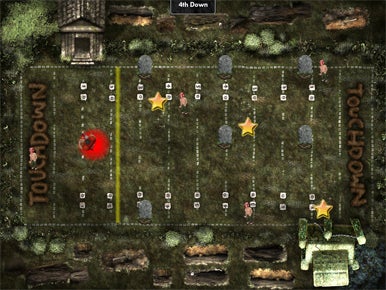 Focusing more on Steve Young's ability to run then his ability to throw, your objective is to get Steve Young from one end of an obstacle-filled football field to the other while collecting the many stars that litter the landscape. But standing in your way are a myriad of obstacles including pigs, bombs, tornados, ice slicks, mines or tombstones littering the rest of the field. The field may also have giant football players or tiny football fans running around it.
The game essentially tasks you with flicking Steve Young's avatar from one end zone to the other. If you firmly press your finger down on Steve Young, you gain control of him. In the end zone, Steve has unlimited mobility but you must position Steve at an appropriate angle in the end zone so that when he runs on the field he can avoid obstacles. If Steve hits an obstacle, he must return to the end zone to try his run again. Also, if he hits a field obstruction, you will be treated to one of his many cries of pain, such as "Awe, my face!" (I thought I would be entertained by such shrills, but in the end I found them incredibly annoying). If Steve doesn't hit an obstruction, and scores a touchdown, you get to move onto another level. There are eighty levels.
The game also offers a multiplayer option. If you have the iPad version, you can play multiplayer on one iPad or two. If you use one iPad, you see only one field. If you use two, the field is split in half and each player gets one of the halves. In multiplayer, one player gets to design field obstacles, while the other gets to run through them.
When you get down to it, each level of the game is basically the same. I found that avoiding obstacles gets repetitive really fast. Despite the name recognition and the respect the developers seem to have for game's namesake (and vice versa) the game is an overly-simplistic distraction not worthy of more than a few minutes of your time. The commercials for Steve Young Football are more entertaining than the game itself—and believe me, the commercials are incredibly weird. (Check the commercials out on YouTube.) Luckily, I was able to complete missions quickly, so I didn't have to suffer long. Most players should be able to complete the game in only a few hours—if they can stand it.
You might notice that Steve Young's Forever Young Foundation sponsors the game. The game's profits go to a good cause, which makes sense, because playing Steve Young Football feels like an act of charity.
[Sam Felsing is an editorial intern for Macworld.]