Realmac Software on Wednesday released RapidWeaver 5, a major upgrade to its visual and extensible Website creation and blogging app for the Mac.
RapidWeaver sits comfortably in the space between drag-and-drop Website creation, like Apple's iWeb, and everything-plus-the-kitchen-sink suites like Adobe's Dreamweaver. While it is based around themed Website templates and provides no direct access to your site's code, you can customize many behavioral aspects of your sites, install a wide variety of officially supported add-ons and themes, and add things like reusable text snippets and Website traffic analytics.
In development for a year, RapidWeaver 5 gained a number of big new features, not the least of which is a dedicated new Site Resources manager. If you provide downloadable files like PDFs and ZIPs for your visitors, you can now manage them all from a new section in RapidWeaver's sidebar. This means files are no longer segregated to individual pages, and RapidWeaver can keep track of changes you make on your Mac, such as renaming a file.
A new sitemap plugin lets you easily create a map of your site for visitors, and RapidWeaver can now automatically generate an XML sitemap that gets submitted to search engines when you publish your sites. Managing your sites is now easier as well, as a new FTP Bookmarks manager makes it easy to add or reuse sites for publishing.
Since a vast third-party market of add-ons and themes has sprung up around RapidWeaver, Realmac Software also redesigned the managed add-on section of its site. Add-ons are now separated between RapidWeaver and Courier, another Realmac Software app, and it is much easier to find and quickly download the add-ons you need.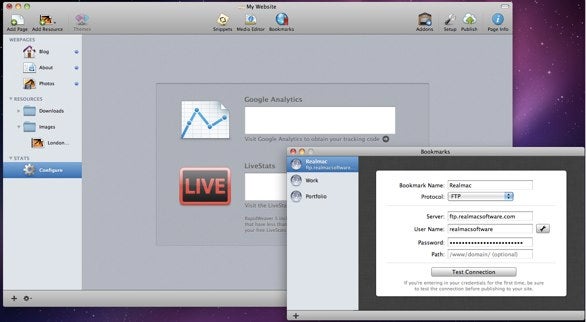 Realmac Software also added a new section to its RapidWeaver add-ons page specifically for Stacks, a quite popular add-on from YourHead Software that brings powerful, visual page layout features to RapidWeaver. Stacks features its own third-party plugin system that allows designers and developers to add new layout tools, also called "stacks." These stacks can add everything from multi-columned pages, to animated image galleries, and file upload tools for clients.
Other new features round out this major upgrade to RapidWeaver, including six brand new themes, a new projects window with quick access to recent and favorite projects, and a healthy dose of interface and performance improvements.
RapidWeaver 5 is available now with a free demo that requires Mac OS X 10.5 Leopard or later (it's also been submitted to Apple for its upcoming Mac App Store). A single user license costs $79, and existing owners can upgrade for $39. If you just bought RapidWeaver 4 after November 1, you qualify for a free upgrade to version 5.