The e-reader market has certainly exploded since Amazon's introduction of the Kindle back in 2007; there are now a wide variety of options available for your e-book-loving friend or family member. Despite this, the Kindle and iPad remain the top two e-reading devices consumers own or wish to purchase, according to the latest ChangeWave survey, published on Monday.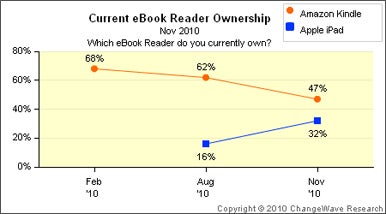 ChangeWave talked with more than 2800 consumers about their e-readers and e-reading habits for the survey, which shows the Kindle continuing to hold on to first place in ownership with 47 percent (down from 62 percent back in August of this year).
The iPad, meanwhile, managed to double its number from the August survey, jumping from 16 percent to 32 percent share of those surveyed. Other devices highlighted were Sony's Reader, which held just 5 percent of the market, and Barnes and Noble's Nook, which nabbed 4 percent.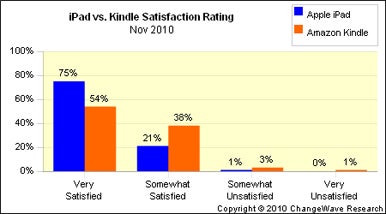 Despite its second-place finish in market share, the iPad stood out in satisfaction, with 75 percent of iPad users saying they were "Very Satisfied" with their device, compared to just 54 percent of Kindle users. In addition, 21 percent of iPad users reported they were "Somewhat Satisfied," as opposed to 38 percent of Kindle owners. "Somewhat Unsatisfied" users were in the minority for both devices, with only 1 percent of iPad owners and 3 percent of Kindle owners; "Very Unsatisfied" didn't even merit a percentage from the iPad camp, and only reflected 1 percent of surveyed Kindle owners.
One interesting statistic recorded from the folks at ChangeWave had to do with content read on the devices: while only 76 percent of iPad users read e-books on the device—compared to 93 percent of Kindle owners—users of Apple's tablet were far more likely to consume other text-based media. More than half of iPad users surveyed said they read newspapers on their device, with 36 percent saying they read magazines; those numbers handily trump Kindle users, of whom only 11 percent and 8 percent reported reading newspapers and magazines, respectively. That's somewhat of a surprise given the Kindle's built-in subscription system for periodicals, but of course, both newspapers and magazines stand to benefit substantially from the iPad's full color display, compared to the Kindle's eInk screen.
It's worth noting, though, that ChangeWave told Macworld that it didn't distinguish, for the purposes of its survey, between apps developed by news companies and those companies' Web presences. "We were focusing on the content they were consuming as opposed to how they accessed that content," said Andy Golub, ChangeWave's Director of Operations.
The final category of the survey relates to users trawling blogs and news feeds. In this arena, the iPad dominated; 45 percent of users reported that they read this type of content, compared to just 3 percent of Kindle users.
Overall, the holiday season looks promising for both the iPad and the Kindle: when consumers were polled about potential e-reader purchases in the next 90 days, 42 percent reported they would most likely buy an iPad, while 33 percent pointed to Amazon's Kindle. Other e-readers mentioned were the Nook, pulling a modest 4 percent; Sony's Reader, with 1 percent; and the nebulous "Smart Phone with eBook Capability" category, which scored 2 percent. However, with just under a month left in the holiday shopping season, companies still have a bit of time to vie for the 18 percent of potential e-reader consumers that are—as of yet—undecided. (I can't wait to see the ads.)
Updated 12/2 with more information on news and magazine consumption and additional information from ChangeWave.
Kindle (Wi-Fi, 3rd Generation)
iPad (1st generation) Family