With its flat glass front and back, the iPhone 4 isn't just a gorgeous piece of hardware, it's a potential canvas for your creativity. Thanks to the design tools at Unique Skins, you can create a full-color custom iPhone 4 skin for yourself or a friend. Here's how.
Choose your pictures
In iPhoto, select File -> New ->Album, then add to the album the pictures you'd like to use as skins. Choose at least one picture for the front and another for the back of the device. Perform any image enhancement in iPhoto or another image editor on your Mac; Unique Skins offers no tools to adjust a picture's exposure or brightness. Naturally, vertical pictures align best with the iPhone's design, but horizontal photos can be used as well.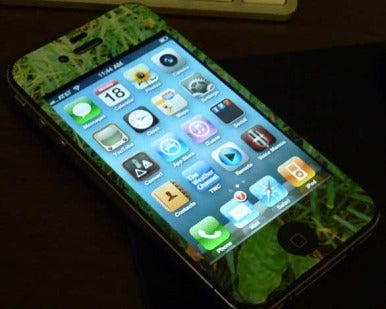 For the front, you might consider a pattern or a scenic landscape that has some detail around the edges, as faces will be severely cut off once you account for the phone screen. For the back, almost any photo will suffice.
In the Finder, select File -> New Folder. Select your images in iPhoto (or elsewhere on your Mac), then drag them into the new Finder folder. From there, they will be uploaded to the Unique Skins Website where they can be resized to fit an iPhone 4.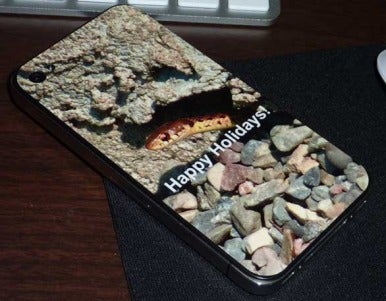 Select and design your skin
Visit the Apple section of the Unique Skins Website, then choose Custom Apple iPhone 4 Skin. The resulting page lets you pick an adhesive vinyl skin consisting of one piece for the front of the phone and one for the back. Available options include a basic skin for $6.99, a scratch-resistant skin for $19.99, or a gel skin with a raised surface for $29.99. I chose the basic skin.
Pick a skin's style and then click the Design Now button. This launches the design workspace in a new window. There you can upload images, resize and rotate them, layer one picture over another, and even add text in a variety of colors and fonts. A sidebar also offers an extensive library of stock images including Nature, Sports, Flags, and Animal Print themes. Despite the workspace's decidedly un-Apple-like interface, it's easy to get started on your skin thanks to intuitive tools and optional help balloons that explain all available options. Better still, templates showing everything from the iPhone 4's outer edges to the location of its camera lens and flash let you see exactly how your final design will appear on the device.
To save a work in progress, click Save For Later and create a Unique Skins account with a valid email address and password. You can then finish your work on any computer with Web access. Of course, the account is also required at checkout when you submit a finished skin for processing. Your design is then printed on a skin and shipped to your door ready to peel and apply. I chose standard shipping for $2.45 and received my skin in less than a week. Faster priority and express shipping are also available for $6.10 and $19.99, respectively.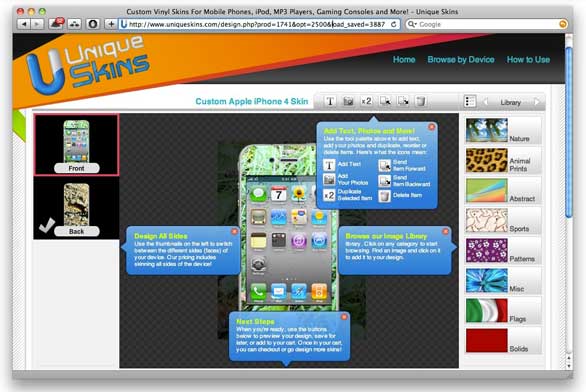 Apply the skin
First, clean both sides of the iPhone with a lint-free cloth to ensure good contact between the glass and your skin's adhesive. Next, remove the pre-cut sections of the skin covering the Home button, camera, flash, and sensors. Aligning these holes with their respective features on the iPhone 4 is a little tricky, so it's a good idea to apply the back skin first. With only two holes, it's much simpler to apply than the front skin. If you make a mistake, both skins can be carefully removed and reapplied without much fuss––just take care not to stretch the skin or touch the adhesive side too much.
Once you've correctly positioned the skin around one or two "landmarks" on your iPhone, you can slowly smooth the rest of it into place. It should be a perfect fit, but you can make adjustments while you work as needed. Best of all, because skins leave no residue behind when removed, it's easy to experiment with different designs––just peel off the current skin and apply a new one. However, consider another solution if you're looking to protect your iPhone 4's screen from scratches. While my skin adds almost zero bulk to my iPhone and feels tough enough to protect its back from objects in my pockets, the skin leaves your precious screen completely unprotected.
Huge variety
While we tried Unique Skins on the latest iPhone, you can use this service to skin almost any model of iPhone you want. Plus UniqueSkins lets you custom design protective and decorative covers for all kinds of other electronic devices from the latest MacBook Air to the Nintendo Wii.
[Adam Berenstain is a freelance writer in upstate New York.]
16GB iPhone 4 (GSM, AT&T)
Price When Reviewed:
$485
32GB iPhone 4 (GSM, AT&T)
Price When Reviewed:
$599