Manually combing photographs in an image editor to create panoramas, let alone 360-degree panoramas, can be a taxing task. Luckily, 360 Panorama from Occipital skips the time-consuming photo-stitching process: instead of taking multiple still shots and stitching them together, the app builds the image in real-time using an advanced system similar to video, resulting in a smooth final image. 360 Panorama additionally offers a stereographic display mode, allowing you to see your curved panorama laid flat (much like an inverse globe).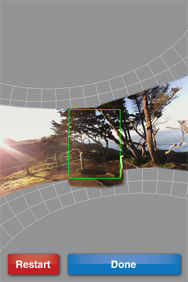 Once you launch the app, tap the screen to start the process. Stand as still as possible and slowly pan the camera in any direction. You can pan the camera up and down or from side to side (slow, clean sweeps provide the best results), while a real-time feed with image stabilization grid on your screen keeps you aware of what the app is capturing.
Tap done to preview your finished panorama. The app will tell you how long it took to record, as well as let you pan up and around, allowing you to decide if the finished product is to your liking. From here, you can start over (if you weren't happy with your panorama), save it to the Camera Roll, e-mail it, or send it to a Twitter image service.
(Note: You don't necessarily need to send it to Twitter to upload it to one of the available services like TwitPic or yFrog—the app will upload your image first, present you with URLs, and then ask if you'd like to tweet it.)
The overall result is fairly seamless—especially when you're taking a panorama somewhere with good lighting—but the edges may be a bit uneven, depending on the steadiness of your hand. You can crop out these unwieldy edges on your computer using iPhoto, Aperture, or Photoshop, or by using an image editing app on your device.
In terms of simplicity and ease of use, 360 Panorama is exceptional, and it's certainly neat to see your panorama being generated right in front of you. When you share your image, you can even send a 360-degree embedded viewer for friends and family to view online. Unfortunately, the app lacks the ability to edit the photo once it's been captured, leaving you with possibly uneven edges that could require further tweaking elsewhere. However, for quick and dirty panoramas, this is probably one of the best on the market.
[Jaena Rae Cabrera is a multimedia journalist, bibliophile and Batman-enthusiast. Follow her on Twitter: @jaenarae]