Were it possible to make babies with an RSS reader, the one I'd consider settling down with would be Reeder for iPad. Developer Silvio Rizzi created both the iPad version and Reeder for iPhone, each of which provides a clever, minimalist approach to navigating your Google Reader subscriptions. On Tuesday, Rizzi released the first public beta of Reeder for Mac OS X, officially nailing the Apple hat trick (well, until the Apple TV gets apps, anyway).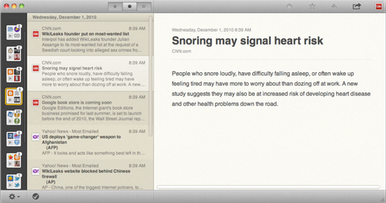 Reeder for the Mac takes almost all of its visual cues from the iPad version of the software—so much so that you might end up with a few fingerprint smears on your monitor until you get the hang of things. Of course, instead of tapping on folders, headlines, and links, you're meant to click. Reeder uses a unique 2.25-paned interface; your subscription list slides away when you click into stories, and reappears as you continue scrolling.
The software's beta label should be taken seriously: there's no search, no feed management, and I'm of the opinion that the keyboard shortcuts and occasionally inscrutable icon-based sidebar need some work. But the app looks great, and its integration with third-party services like Twitter and Instapaper is top-notch. However, while I'm a Reeder devotee on iOS devices—and this new Mac beta does look promising—I'm not ready to uninstall NetNewsWire on my Mac just yet.
Update: As a clever commenter points out below, you can drag to expand the folder pane to display the names of items instead of just thumbnails.—DM