The staggering growth of the Android operating system has made the iPhone's lead in the U.S. smartphone market tenuous, according to the most recent numbers from The Nielsen Company.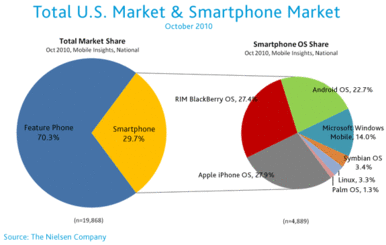 Apple commanded 27.9 percent of the smartphone market in October, according to Nielsen— virtually identical to its second quarter share of 28 percent. But BlackBerry-maker RIM, the former market leader, saw its share of the pie drop from 35 to 27.4 percent during that same time period. The big winner in growth? Android, which jumped from 9 percent of the market in the first quarter to 13 percent in the second quarter—and then rocketed up to 22.7 percent in October. Microsoft's Windows Mobile system, lagging at the rear, dropped slightly during the quarter, from 15 to 14 percent.
It appears that Apple and Android will be the chief rivals for future sales, as well. According to Nielsen, 25 percent of feature phone (read: non-smartphone) owners hope to upgrade to Apple's device, compared to 28 percent for Android. Apple has an advantage among current smartphone owners looking to upgrade, however, with 35 percent of those potential customers saying they want to buy an iPhone, compared to 28 percent who desire an Android device.
There appears to be a significant gender gap, however, among smartphone owners looking to upgrade their device. While 32.6 percent of men say they want their next smartphone to be an Android, just 22.8 percent of women say the same, possibly a result of chest-beating ads last year that clearly pitched Droid phones at men. Apple has no such disparity, being the preferred smartphone of 30.9 percent of women and 28.6 percent of men looking for an upgrade.
In terms of age, the two systems were nearly neck-to-neck among 18-to-24-year-olds looking to upgrade—35.9 percent of that group preferred the iPhone, compared to 32 percent for Android. Apple retained a 2 percent lead among 25-to-34-year-olds, but Android beat the iPhone in the 34-to-54-year-olds looking for an upgrade, with 27.4 percent preferring Google's platform to 26.3 percent who opted for Apple's. The iPhone, however, is the clear preference of smartphone users older than 55, with an advantage of 26.4 percent to Android's 20.3 percent.
The rivalry is taking shape amid a still-growing smartphone market. Nielsen reported that 29.7 of all mobile users were smartphone owners in October, up from 25 percent in the second quarter. That continued the industry's near-linear growth in the last two years, which has seen smartphones rise from just 16 percent of the market in the second quarter of 2009.