Reader Ryan Cassidy writes with an all-too-common iOS question. Thusly:
I have a Mac and also a PC (running Windows 7), and while I like the Mac better, the one thing they have in common is that they automatically do things I'd prefer them not to when I plug in my iPod touch. The PC shows the AutoPlay window, and the Mac launches iPhoto. I wind up closing each of them whenever they appear. Is there a way to stop this behavior?
While my mother didn't raise me to offer Windows advice, I'll make an exception in this case because we're talking about an Apple device.
When you jack your iPod into your PC, the AutoPlay window, as you've noted, appears. At the bottom of that window is a link that reads, "View More AutoPlay Options in Control Panel." Click that link.
In the resulting AutoPlay control panel window you'll see a long list of choices. Scroll down the list and you should see your iPod touch at the bottom (if you don't, unplug it from your PC and plug it back in). From the pop-up menu next to it, choose Take No Action and click the window's Save button. From this point forward, you shouldn't see the AutoPlay window when you plug in your iPod.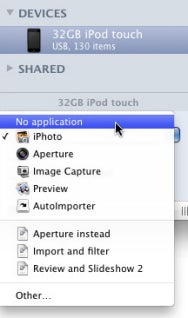 As for iPhoto on the Mac you have a couple of options. The first is to open iPhoto's Preferences, select General, and from the Connecting Camera Opens pop-up menu, choose No Application. (iPhoto considers your iPod touch to be a camera, and that's why it launches.) The problem with choosing this option is that you've now disabled opening iPhoto when you attach any camera—your point-and-shoot or DSLR, for example. And perhaps you want iPhoto to pop open when you attach one of those cameras.
Another option gives you more control. Plug in your iPod and launch Image Capture. Select the iPod in Image Capture's Devices list and at the bottom of this list choose No Application from the Connecting This iPod Opens pop-up menu. This allows you to configure iPhoto's behavior for individual "cameras" such as your iPod. Now, when you plug in your iPod, iPhoto butts out. But when you plug in your real camera, iPhoto leaps to the fore.
Oh, and iTunes. In case you haven't noticed, on a Mac or PC you can keep iTunes from auto-launching by selecting your iPod in iTunes' Source list, clicking the Summary tab, and disabling the Open iTunes When This iPod is Connected option.