In November, Stephen Reynolds's ClickyTouch debuted on the iPhone; the app acts as a client for Clicky, a real-time Web analytics service for Website owners. Now ClickyTouch 1.2 not only brings access to past traffic data but also adds an iPad-specific interface that takes full advantage of the tablet's larger display.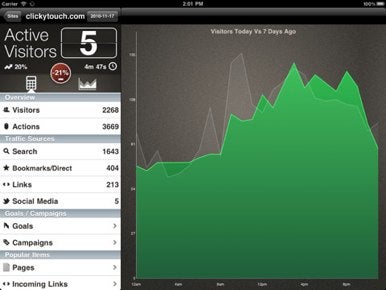 With its adaptation to the iPad, ClickyTouch has gained a background browser for quickly viewing graphs or any of your site's pages live on the Web. When you hold your iPad in portrait orientation, your Clicky traffic data and Website selector appear in a popover above the background browser window. In landscape, the traffic data column conveniently sits next to the browser in a split-pane view.
ClickyTouch now also provides access to traffic data from previous days. A Today button at the top of the traffic list allows you to pick a different day to view, as long as Clicky's servers still store its data.
Since ClickyTouch already had multitasking support on the iPhone and iPod touch, it's ready for iOS 4.2 on an iPad too. These new perks pile onto ClickyTouch's existing benefits, like automatic refreshing of Clicky's real-time Web analytics information and access to virtually all of the key data about your traffic, including unique visitors, actions (also known as pageviews), average time on site, traffic sources, social media leads, goals, and campaigns.
ClickyTouch 1.2 is a $3 universal app for iPhone, iPod touch, and iPad, available now in the App Store. It requires iOS 4.0 or later.
When you purchase through links in our articles, we may earn a small commission. This doesn't affect our editorial independence.