Aspiring pages, knights and wizards: rejoice! Majesty 2: Fantasy Kingdom Sim, an epic real-time strategy game set in a high fantasy world, has finally arrived on the Mac. Ported by Virtual Programming, the game takes place in the mythical land of Ardania, set 500 years after the events of the popular original title released in 2000. A newly conjured Demonlord has usurped the throne and unleashed chaos upon the land. Now the player is tasked with uniting the various elves, dwarves, and humans to take back the throne for the true heir.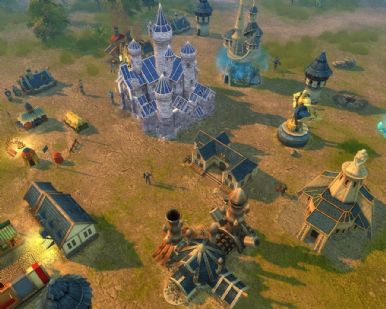 In Majesty 2, players will compete as the last heir in Ardania's royal bloodline, fighting to create and defend their fantasy kingdoms. Choose from ten classes of heroes (such as wizards and wild barbarians) to defend your kingdom from monsters and complete the sixteen missions in the game.
Combining strategy and role-playing, Majesty 2 brings a unique set of challenges to the player. While heroes are key to your success in Majesty 2, they also tend to be more trouble than they're worth. Not only are the characters sneaky, selfish, and sometimes downright obnoxious, but they also have a mind of their own. You can't directly control the actions of heroes, so managing them becomes dependent on what sort of monetary incentives they respond to. They also have their own politics and alliances between one another, which will affect what you'll be able to make them do. The characters develop independently as the game goes on, so you'll have to adapt your methods of interacting with them. While this has potential to be difficult, you'll also end up with an incredibly unique army of characters, each with their own skill set.
Along with leading battles in Ardania, players are responsible for designing and cultivating their own cities. The graphics in the Virtual Programming game are made up of stunning 3D landscapes. Engaging and diverse characters combine with interesting fantasy dwellings to make for visually appealing scenes within the game.
The game has a multiplayer mode that allows up to four players to compete over a local area network. Majesty 2: Fantasy Kingdom Sim is available for $39.95 on Virtual Programming's website. So grab your sword or your magic wand and delve into some classic medieval kingdom-making. To arms!