Good news for anglophile television watchers: the BBC has announced that it plans to begin the international launch of its lauded iPlayer catch-up service by first rolling out a paid subscription service for iPad users.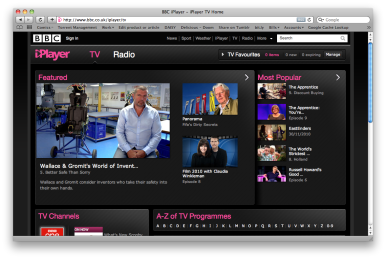 For those of you not in the know, iPlayer is a free service offered by the British broadcaster that provides U.K. residents on-demand access to the prior seven days of TV and radio programs.
While iPlayer itself is free, it's included as part of the annual license fee that U.K. residents pay to support the ad-free, non-profit BBC (the fee currently works out to around $20 per month). Because of that, the service is not currently available to users outside the U.K.
BBC.com's managing director Luke Bradley-Jones says that iPlayer's global rollout will only be available via a paid subscription at launch, though the organization is talking with advertisers about supporting free areas of the service, as well as examining additional models such as pay-per-view and download-to-own. Prices for the service have not yet been revealed.
iPlayer is currently available in the U.K. only via Web browser; while an iPlayer iOS app has been developed, it has yet to be released. Still, the service has been very popular, registering 139 million requests in the month of October, compared to Hulu's 260 million. (To put that in perspective, though, remember that the population of the U.K. is around 62 million—about one-fifth that of the U.S.)
As one of the aforementioned aficionados of British TV, I welcome this development with open, well, eyes. The distribution of BBC programs in the U.S. is extremely fragmented: some end up on the broadcaster's domestic cable channel, BBC America; others make their way to public broadcasting; and yet others are available for rent or purchasing on iTunes.
But there are still a number of shows that don't make it to our shores (or, at least, not in commensurate timing with their original broadcast). As such, piracy of certain shows—cult favorite Doctor Who, for example—has become rather an open secret in some circles (so much so, I actually caught a reference to torrenting Doctor Who on another TV show).
The launch of a global iPlayer won't entirely stem that tide, of course, since there are always people who will prefer to get something for nothing. But just as with the digital music market, there are plenty of folks who will opt to pay for a legitimate service if it's reasonably priced and convenient. For the iPlayer, the key question is not just one of price but also one of restrictions: will the content for the U.S. version be on par with what U.K. residents get, or will it be limited in some way? Issues of broadcast rights have been among the thorniest problems in expanding the reach of streaming video both at home and abroad.
But there's no question that a large potential market exists: Netflix has clearly shown there's an audience willing to pay for streaming video; Hulu is now busy trying to capitalize on that as well. With the international debut of iPlayer due within the next year, the real question for viewers may soon be not whether to subscribe to a streaming service, but how many services to subscribe to.