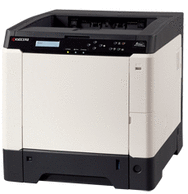 Kyocera Mita America this week introduced two new business-class class color printers to the market.
The new FS-C5250DN and FS-C5150DN devices both print 600dpi color on a wide range of paper stocks. Both models come with 256MB of memory—, upgradeable to 1.28GB—and each features a front-mounted USB slot to let users print directly from memory cards. Both machines also offer businesses the ability to track up to 100 account codes for departmental accounting purposes, and both offer support for IPv4 and IPv6 connectivity protocols, as well as SSL and IPsec to ensure document security. Supported file formats on both printers include PDF, XPS, TIFF, and JPG.
The FS-C5250DN is the printer for heavier-use companies, with a monthly maximum duty cycle of 65,000 printed pages at 28 pages per minute and—with the inclusion of optional 500-page feeders—a paper capacity ranging from 550 to 2050 sheets. The smaller FS-C5150DN is built to print 50,000 pages a month at 23 pages per minute, with a standard capacity of 300 sheets that is expandable to 1300 sheets once the optional feeders are added.
The FS-C5250DN and FS-C5150DN are available for a suggested retail price of $1569 and $959, respectively.