A common feature request I get—often from Windows users switching to the Mac, but also from long-time Mac users—is for a way to more-quickly create a new file in the Finder. In Windows, when you right-click inside a folder, the resulting contextual menu includes a command to create a new document right there and then. This can be very convenient—after all, when you create a new document, chances are you already know where you're going to put it and, in fact, that folder is often already open. This Windows feature is certainly a more-convenient process than the traditional Mac OS alternative: switching to the appropriate program; creating a new document; choosing the Save command; navigating in the Save dialog to the desired folder; and clicking the Save button.
Because of this convenience, two of my all-time favorite Mac Gems have been NuFile and Document Palette, which offer a contextual menu or an onscreen palette, respectively, for creating a new document in the active Finder window. Sadly, NuFile stopped working as of Snow Leopard (OS X 10.6), with no update in sight, and Document Palette seems to have gone the way of the dodo. (Document Palette actually works perfectly under Snow Leopard; it's just no longer available for downloading.)
So I was more than a little excited to discover Neu, a Snow Leopard-compatible—nay, Snow Leopard-only—utility that combines the best features of NuFile and Document Palette, as well as a few new ones, in one program.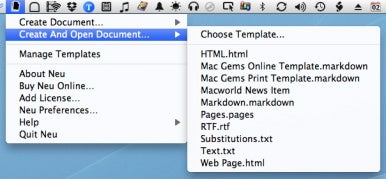 With Neu running, whenever you're working in a Finder window, you can use Neu in one of five ways to create a new document: Neu's systemwide menu-bar menu, Neu's Dock menu, the Finder's Services submenu (in the Finder menu), the Finder's contextual menus, or either of two configurable keyboard shortcuts. Whichever approach you use, Neu offers two commands: Create Document and Create And Open Document. The former simply creates a new document in the active Finder window; the latter creates the document and then automatically opens it in the appropriate program. (Using the contextual-menu method, you can even create a new document inside a folder that's not open—just right-click on that folder.)
What kind of new documents can you create? Neu offers a customizable list of choices. By default, those include a PNG image, a Pages file, a plain-text file, an HTML document, and a shopping list in rich-text (RTF) format, all blank and waiting for you to provide the content. But you can customize this list either by using the program's Manage Templates window or by placing your own files in ~/Library/Application Support/com.elegantchaos.neu/Templates. When you use one of Neu's menus to create a new document, the command's submenu displays a list of available templates—choose one to create a document based on that template. When using Neu's keyboard shortcuts, Neu displays, depending on your settings, either a text list or an icon grid of template options. (I prefer the list to the grid, because when you use the Grid view, you must choose a template using the mouse cursor—you can't use your keyboard's arrow keys.)
These templates can truly be templates. You can have, for example, multiple documents of the same type, each with different contents—whenever you create a new file, it will include the original template's contents. I use this feature, as I did for years with Document Palette, to quickly create a new Markdown document based on a template called Mac Gems Online Template.markdown; this file contains, among other things, the Mac Gems Newsletter note that appears at the bottom of this and every other Mac Gems column.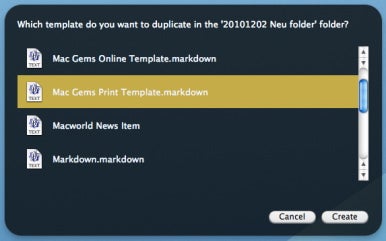 Neu offers a number of useful options. For example, you can choose to hide Neu's Dock menu or systemwide menu-bar menu, and you can opt to have Neu prompt you to name each new document, using a traditional Save dialog, on the fly.
For advanced users, Neu offers an interesting feature for automatically substituting template text with dynamic data. For example, by using the correct syntax in your templates, you can have Neu automatically replace variables with, for example, your username, the path to the new file, the date and time the new file was created, and which template was used to create it.
Because of a the way Finder Services work, Neu's Services options appear in the Finder menu only if you first select a file in the active Finder window. Similarly, the contextual-menu commands appear only if you right-click (control-click) on an existing file or folder in the window. In other words, if you want to create a document in an empty folder, you must use one of Neu's menu-bar or Dock menus or its keyboard shortcuts.
There are also a few features and improvements I'd like to see. For example, I wish you could customize the order in which templates appear in Neu's grid and list views and its menus. I'd also like to be able to assign a shortcut to each template—with Document Palette, I could bring up the template chooser and press b to create a new BBEdit document. I'd also like to be able to resize Neu's list view—it currently shows only four templates at a time, requiring you to scroll to see others. Similarly, the grid view cuts off longer template names—a larger grid that provided space for longer names would be welcome.
If you're one of the many Mac Gems readers who's lamented the demise of NuFile and Document Palette, give Neu a try. It's not quite as elegant as Document Palette, but it's quite a bit more flexible and powerful. And, perhaps best of all, it works in Snow Leopard and is being actively developed.
(Note that if Neu's options don't appear in the Services submenu of the Finder menu or within contextual menus, you may need to manually enable those services in the Keyboard pane of System Preferences.)
Want to stay up to date with the latest Gems? Sign up for the Mac Gems newsletter for a weekly e-mail summary of Gems reviews sent directly to your Inbox. You can also follow Mac Gems on Twitter.