Searching for a great gift? If your family and friends love their iPhones, consider making them each a custom case. Whether you want to show off a photograph, your child's artwork (or your own), help them proclaim their love for a favorite sports team, or just surprise them with a case that's completely out of the ordinary, these sites offer lots of options.
Iconic style
Coveroo.com ($25-45) lets you add a custom touch to your iPhone 4 while still selecting from a wide choice of cases. Choose from the DragonFly Slider, Hard Candy Slider, HardCandy Shell, and XGear Shell in many colors. Then apply your emblem. Coveroo engraves some designs and prints others with a color process. Choose from new prints as well as simple, iconic designs including seasonal images, fraternity and sorority emblems, sports teams, comic book characters, dog breeds, college logos, and zodiac signs. The site includes images from an eclectic variety of TV shows including The Simpsons, Charmed, Star Trek, Dexter, and Cheers.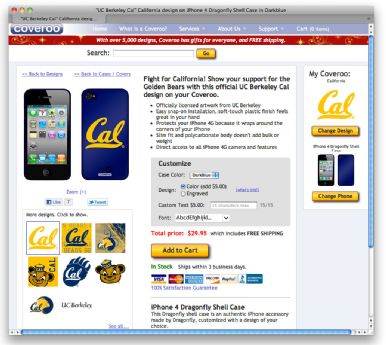 I ordered a Coveroo Dragonfly slider case with a script UC Berkeley "Cal" symbol and it is among my favorites of the custom cases I tested. The Cal logo printed in a sparkling gold and the svelte but sturdy blue Dragonfly case is an intense metallic blue.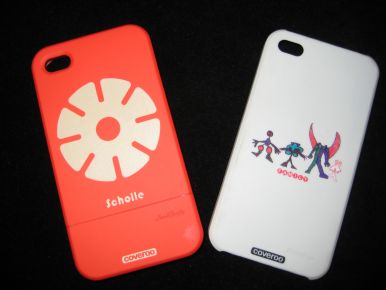 You can use your own artwork to decorate a Coveroo.com case, but it is not an easy or inexpensive process. Coveroo.com requires you order a case, pay for it, and then e-mail in your art file and your order number. You can't preview the results on the case or tweak the position and size of artwork as you go. It's a lot to take on faith. If you're feeling adventurous, you can also add 15 characters of text for $5, but there's no indication on the site where the text will appear. (It appears centered below the artwork.) I was disappointed to see that my child's artwork printed very small on the case I ordered.
Coveroo.com is an excellent choice if you want to choose from a wide variety of cases and you like one of the site's images. If you want to use your own artwork or photos, you're probably better off looking elsewhere.
Uncommon results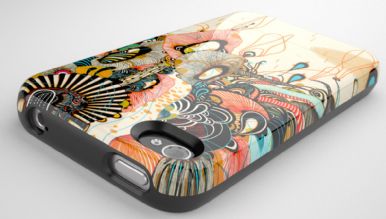 If you want to express yourself through your iPhone case, and that expression requires art, you'll find a dazzling variety to choose from at Uncommon ($35-40). Select from many different designs— florals, abstract patterns, cartoons, skulls, and knit patterns—some created by professional artists, others by Uncommon community members.
When you pick an image, you're presented with a set of controls that let you resize, rotate, and reposition it until you like what you see. Easy to use sliders let you make adjustments. This means you'll always be able to add your own touch to the case, even when you're using an artist's work—crop and adjust the artwork to focus in on the part you like the best.
Use the same controls to work with and preview your own artwork or photograph. I was able to see that my son's drawing fit my case much better when turned sideways—something I couldn't tell when I made a custom case with Coveroo. It's also much easier to pick a good photograph for your case when you can see how it will look wrapped around your phone.
Uncommon now offers three customizable cases—the Deflector, the Capsule, and the Gallery. Choose the Gallery and you can swap in plates with different images—at $20 a pop—as the mood hits you.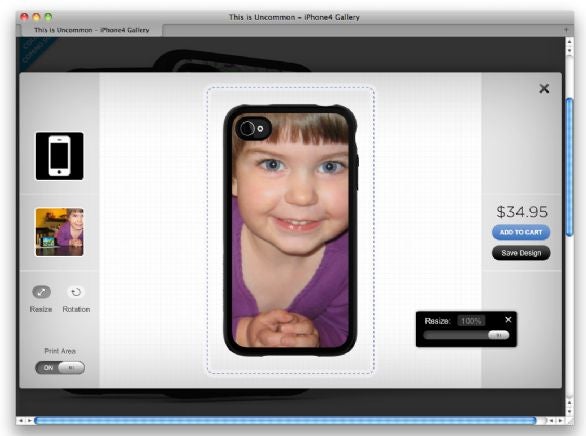 The artists' way
When you order from Case-mate's I Make My Case Artist series, expect bright colors and eye-popping designs. You can now customize either the new Barely There case ($35) or the two-part Tough Case ($40). The Tough Case, which I tested, includes a hard shell that fits over a rubbery skin. The flexible undercase surrounds all buttons and ports without obstructing them. I could still use most of my older iPhone accessories with this case—for example, my Scosche ReviveLite. I didn't like that the case added noticeably to the phone's width, making it feel bulky in my hand. If you (or your giftee) have large hands, though, you might not notice.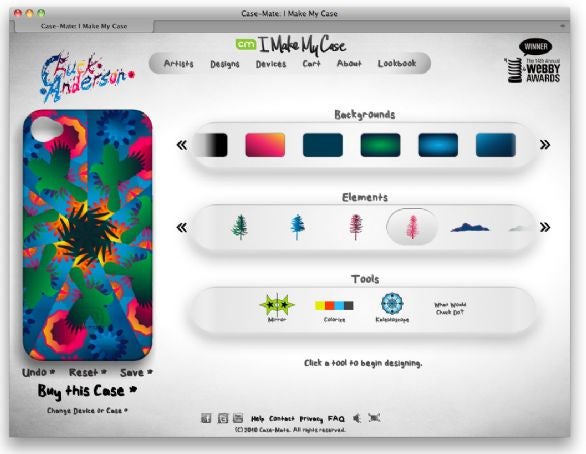 Make My Case's new customization features give you an amazing number of options for making your own design in the style of a certain artist. Choose one of ten artists—for example, Chuck Anderson, Deanne Cheuk, or Matt W. Moore. Choose a background color (or pattern, in some cases), and then spray paint with elements from the artist's work—birds, fire, flowers, mountains, snakes, you name it. Size the elements as you like, mirror them, colorize, use a kaleidoscope effect, and more. The tools are easy and fun to use.
You can upload your own artwork to the site as well using the site's Do It Yourself design tools. The customization controls are similar to Uncommon's. You can now customize either the Barely There or the Tough Case.
A unique gift
Typically, custom cases from any of these sites require a couple of business days for processing in addition to shipping time, so if you're aiming to put one under the Christmas tree, now is the time to order. When you make a custom iPhone case, you'll be creating an unusual gift your friends or family will use every day.
16GB iPhone 4 (GSM, AT&T)
32GB iPhone 4 (GSM, AT&T)