Apple may have upped the Flickr ante in iPhoto '11, but avid photographers still need more control and convenience when sharing their work in Yahoo's galleries. Flickr tools for iPhoto power users are the domain of Connected Flow, and on Thursday the company released major upgrades to its FlickrExport plug-ins for both iPhoto and Aperture.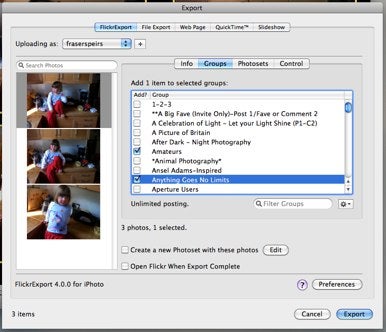 New features for both editions of FlickrExport include support for multiple accounts, uploading to multiple photosets at once, setting a license before uploading, and a streamlined new interface.
As for features exclusive to each edition, FlickrExport for iPhoto gained support for uploading videos and iPhoto '11, and its Aperture counterpart gets "metadata-only uploads." If you've uploaded photos from Aperture to Flickr, you can edit their metadata in Aperture and update just that data on Flickr instead of having to replace the photo itself.
Free, feature-limited demos of both FlickrExport editions are available. A FlickrExport for iPhoto license costs £12 (about $19), while FlickrExport for Aperture is £14 (about $22). Both require Mac OS X 10.5.8 Leopard or later.
FlickrExport for Aperture 4
FlickrExport for iPhoto 4