Along with the standard fare of plastic, rubber, and battery cases, this week's roundup has more than its fair share of what we'll call "novelty cases"—products that favor originality and zaniness over practicality. It makes sense, considering that parents around the globe are on the prowl for affordable, entertaining accessories for the gift-giving season. So if you're looking for a novel case for an iPhone-owning friend or loved one—or for yourself, for that matter—look no further. From the bright and bulky Arkhippo, to Headcase's Etch A Sketch case, these coverings will put a smile on the faces of all but the Grinchiest gift recipients.
AG Findings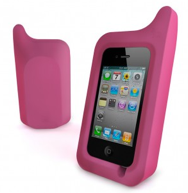 AG Findings's Vent Shell Case ($20) is a polycarbonate, snap-on shell that features—you guessed it—a bunch of tiny vents on its back. Though the vents aren't likely to serve a functional purpose, they add a unique design element to this snazzy little case.
Ark
Though most iPhone cases strive to add as little bulk as possible, Ark's Arkhippo does just the opposite. According to the company, the bulky, colorful case, "is huge, easy to handle and offers self standing". The Arkhippo won't be available until mid December—and Ark hasn't listed pricing yet—but if portability isn't an issue, this could be the case for you.
Caze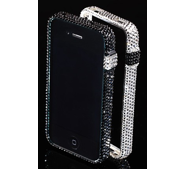 If you have a penchant for bling—and the money to match it—the unabashedly gaudy BlingFrame ($99) might float your boat. Billed as the world's first Swarovski frame case (read: bumper) for iPhone 4, the BlingFrame is crammed with more than 500 Swarovski crystals, which fully cover every bit of the case. It also comes with a front screen protector, back glass protector, and a microfiber cleaning cloth which, presumably, is not coated with shiny crystals.
Gecko
Gecko's new Edge and Glove cases ($20) offer basic, affordable polycarbonate protection for your device. The Edge is a frame/bumper case with raised edges that help protect the front and back of your phone from drops. The Glove is a silicone case that provides full-body protection against scratches and bumps. The Glove also features Gecko's unique Gecko Grip for a comfortable feel and non-slip footing for your phone on any surface.
Griffin
Griffin has teamed up with online T-shirt retailer Threadless to release a new collection of t-shirt-inspired cases ($35). Threadless is known for its hip, witty, user-submitted shirt designs, and the company has transferred some of the more-popular designs to Griffin's new cases. The cases themselves are rigid-plastic shells that easily snap on and off your phone, providing impact and scratch protection.
Headcase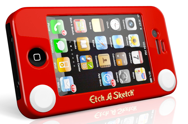 We previously covered Headcase's clever Etch A Sketch case for iPad, and apparently that case has been popular enough to warrant an iPhone version. The Etch A Sketch iPhone 4 Case ($25) gives the term "shake to undo" a whole new meaning by encasing your iPhone in an Etch A Sketch-inspired case. The case is made of impact-resistant plastic and allows access to all of your iPhone's switches, ports, and buttons. But the real reason to buy it is for the attention you'll undoubtedly receive when people notice you holding a miniature Etch A Sketch up to your face.
Incipio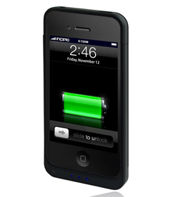 Incipio's $70 OffGrid battery case, available mid-December, doubles your iPhone's battery life with its concealed 1450mAh internal battery while adding just two ounces of weight and 6mm of extra bulk to the phone. Along with extra battery life, the OffGrid provides impact protection while letting you charge and sync your phone via the included micro-USB cable.
iSkin
iSkin has released a slew of sleek 'n' shiny cases in time for the holidays. The Pebble ($35) hardshell case features shiny, rhinestone-like formations along its back and comes in five bold, glossy colors. The Touch Duo ($40) is aimed at the active iPhone user and sports an extra-protective layer of silicone that wraps around its hard, plastic shell. The Solo FX ($35) is a plastic, slide-in case that boasts a mesmerizing designer pattern on its back and a high-gloss front with a non-slip finish.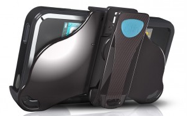 If you want to step up your style even more, the $40 Solo Vu might do the job. The case combines clear-polycarbonate and soft-polymer layers for a sleek, seamless design. The transparent, rigid back of the case boasts classy, art-deco tuxedo lines and a fancy-but-subtle designer pattern. Last but not least is the Duet ($40), a holster-and-case combination for those who need their iPhone within reach at all times. The Duet includes the slim-fitting iSkin Solo case, plus a thin, low-profile clip that lets you quickly snap your phone in and out for easy access.
Kalomix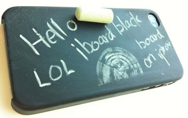 Back in the novelty case department, we have Kalomix's iBlackboard case. As the name implies, this case is actually made of blackboard material on which you can draw and write with regular chalk. Why anybody would need to use their iPhone as a chalkboard is beyond us, but you have to give the company credit for executing such a zany idea. Sadly, details regarding pricing and availability are not yet available.
Mophie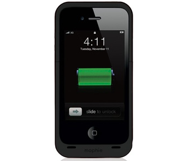 If you need your iPhone to go the distance without a recharge, Mophie's Juice Pack Plus ($100) could be your saving grace. The battery case boasts Mophie's largest battery pack—2000mAh—which should more than double your phone's battery life. The Juice Pack Plus also provides a comfortable, ergonomic design and its dual-injected, hardshell case with shock-resistent, rubberized band delivers protection.
Pad and Quill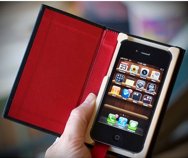 Pad and Quill's The Little Black Book ($40 with camera portal, $35 without) lays down the charm with its travel-diary design and hand-crafted wood frame. The folio-style case features black, faux-leather binding, a wrap-around strap to keep your phone safe and snug, and a classic red bookmark to complete the illusion.
Pinlo
Pinlo bills the Slice 3 ($26) as the world's thinnest iPhone 4 case. At just 0.35mm thick, this could be a credible claim. Constructed with precision machinery and plastic-injection technology, this 3.5-gram plastic case should be good for anyone who can't tolerate the extra bulk of standard cases.
Speck
If you're tired of having to remove your iPhone from its case every time you need to dock it, the CandyShell Flip ($35) might be for you. Living up to its name, the case features a panel on its lower back that flips open, allowing you to dock your phone without hassle. Add a rubberized hardshell and a shock-absorbing interior to the mix, and we could have ourselves a winner.
Substrata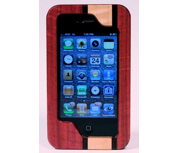 Substrata has a new line of finely crafted wood cases that offer tough protection and a unique, classy look that only real wood can provide. The $75 to $95 plain wood cases are available in Maple, White Oak, Walnut, Mahogany, Padauk, and Wenge; the company also sells $100 to $125 striped-wood models for a little extra flair.
SwitchEasy
SwitchEasy's Odyssey ($30) sports a futuristic design that looks like it came straight out of Kubrick's 2001: A Space Odyssey. Along with its sci-fi looks, the Odyssey features a three-piece design that includes an "adaptive dynamic soft polymer" inner casing, a polycarbonate frame, and a scratch-resistant, hydro-polymer back panel.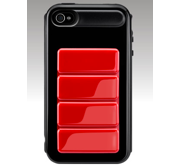 XtremeMac
The $35 Hybrid case from XtremeMac is half rubber, half plastic, combining the rigid protection of plastic with the grip and impact protection of rubber. The two-piece case comes in three different colors and includes a Tuffshield screen protector to keep your display scratch, dust, and dirt-free.
Note: When you purchase something after clicking links in our articles, we may earn a small commission. Read our affiliate link policy for more details.