Flipboard, the "personalized social magazine" app for reading Twitter and Facebook on the iPad, announced a deal with eight online publishers that will allow those publishers' stories to appear directly within the Flipboard app with custom typography, layout and imagery.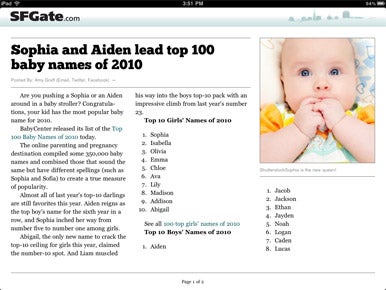 Flipboard's Mike McCue announced the experiment Thursday in a letter to readers on the app and at the company's Web site. Selected articles from the eight publishers will include a "Read Article" button—similar in appearance and placement to the "Read on Web" button Flipboard users usually see with links—that will take users to specially formatted pages "which will load sig­nif­i­cantly faster and look absolutely gorgeous."
"Please keep in mind though that this is still a test," McCue told readers, "so you will likely see for­matting bugs here and there which will get better over time." Indeed, some articles available under the experiment Thursday afternoon did have some formatting issues, including awkward page-breaks apparently meant for their original Web versions. But those offerings also included full-page magazine-style advertisements. (Presumably Flipboard is sharing the revenue of those advertisements with the publishers as a part of the deal.)
The publishers participating in the experiment are ABC News, All Things Digital, Bon Appetit magazine, Lonely Planet magazine, SB Nation, SFGate, Uncrate, and Washington Post Magazine. Users can look at the new offerings by following those publications on Twitter and then viewing the feed through the Flipboard app, or by tapping "Add a Section" in the app's table of contents.
The experiment debuted without requiring users to download an updated app. Flipboard is free, and compatible with iPads running iOS 3.2 or later.
When you purchase through links in our articles, we may earn a small commission. This doesn't affect our editorial independence.