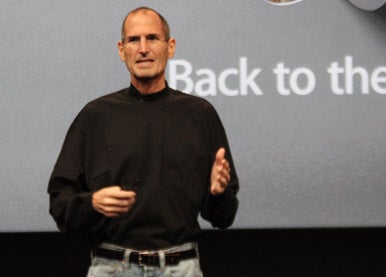 It's late October. Steve Jobs stands center-stage at a media event billed as "Back to the Mac," in front of a crowd of journalists and analysts. The audience is looking forward to hearing some Mac news from a company that's been pretty focused on iOS lately, and the Mac-themed invitation has actually served to suppress the crowd, since iPhone- and iPad-mad reporters don't care so much about the boring old Mac.
The assumption most of us are making at this moment, as Jobs walks out at the front of that tiny theater on the Apple campus in Cupertino, is that "Back to the Mac" is a message from Apple that it's not ignoring the Mac, as many pundits have said, and that the company is finally giving Mac OS X the attention it deserves.
But as the presentation goes on—with the release of iLife '11, a preview of the next version of Mac OS X, and the announcement of a forthcoming Mac App Store—it becomes clear that "Back to the Mac" has a second meaning: That technologies, philosophies and interface designs from the iOS are being rolled back into the Mac. The Mac didn't just help spawn the iOS; now the iOS is returning the favor by changing the Mac OS to be more iOS-like.
Doom, meet gloom
After Apple's presentation was over, the reception to the "Back to the Mac" presentation was a shift from doom to gloom. Before the event, Apple was accused of benign neglect of the Mac. After, that accusation seemed to be replaced with panic that the Mac was going to be locked down and dumbed down until it was, more or less, the iOS on a computer with a keyboard.
That's not going to happen. (As we've shown this week, we believe in the future of the Mac.) However, if you want me to tell you that the Mac is going to continue exactly as it is today, unchanged, into the future, I can't do that either. The Mac is going to become more iOS-like over time—and the iOS is going to gain functionality that currently can only be found on Macs.
To everything there is a season. There will come a day when the Mac is gone, either made obsolete or transformed into something unrecognizable as a Mac. But I don't think that day is going to happen anytime soon. It's also important to remember that when you consider a world in which Apple makes more "traditional" computers running iOS, we're talking about a version of the iOS that's more than twice its current age—an operating system that's already evolving rapidly, with plenty more evolution to come.
Building trucks
For me, the most useful way to think about the future of the Mac is to go back to Steve Jobs's statements about the matter in June 2010 at the D conference in Los Angeles. "PCs are going to be like trucks," he said, pointing out that most people drive cars, while trucks are only sold for very particular, specialized needs. "This transformation is going to make some people uneasy." You don't say.
I believe Apple thinks of the future of computing as two separate markets. One is populated with "regular people," who want information appliances to let them do e-mail, browse the web, play games, generate office documents, that sort of thing. The kind of things millions (or maybe even billions) of people do on a daily basis. These are Jobs's car drivers, and they're ultimately destined for iOS devices. iLife and Lion's evolution into iOS-style single-window interfaces are a harbinger of this.
The other group, the truck drivers, want power and control over their computer technology. They need to customize, to automate, to dig down into the depths of their system in order to get the job done. (Or because it's fun to do—I know a lot of people own trucks not because they necessarily need the towing capacity but because they just like driving a truck. It's part of their identity.) I don't think Apple will abandon this market, but I do believe this is the future of what we think of today as the Mac. (And as John Gruber points out, having a heavy-duty Mac truck available allows Apple to omit heavy-duty features from the iOS.)
The reality is, these two different sets of computer users exist today. They've existed for years now. But the computers industry has utterly failed serve them both, forcing overly technical systems on regular folks who just want to get their work done. Since the original Mac, Steve Jobs's (and now Apple's) vision has been to provide that "computer for the rest of us."
Power-user mode
In the end, I don't think Apple is going to force advanced computer users to use a simplified, iOS-style interface governed by an Apple-approved Mac app store if they want to continue working on Apple devices. But I do expect that, one day, that will be the default configuration of every device Apple sells.
Think of it like the parental-control features already built into the Mac OS. By default, the Mac of the future will start up and look like a more evolved version of iOS, with a collection of easy-to-use apps using a familiar full-screen interface. But go to your Settings app and check a couple of buttons, and your computer will transform from car into truck.
At least, I hope that's what happens. There will always be computing truck drivers out there—and I know that most readers of Macworld fit in that group. Steve Jobs clearly believes that there will always be a need for the computer industry to build trucks. The only question is, does Apple want to remain in the truck business for the long haul? If it does, the Mac will have a good future as Apple's truck.
[Jason Snell is Macworld's editorial director.]