You thought it was over, that the Halloween edition brought us to the precipice of Angry Birds gaming and that if we dared to so much as glance over the edge… Well, let's not drudge up what could have been, because Rovio Mobile had the courage to take that leap of faith for us. Abandon all hope, ye who download the new Angry Birds Seasons for iPhone or iPad.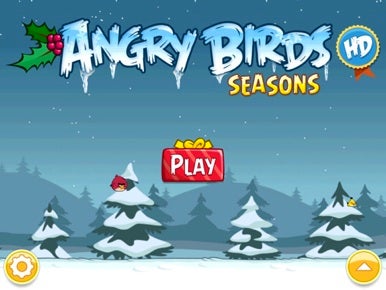 Yes, my poor feathered friends, the pigs are back at it—thus, we are once again called to action. With its new name, Angry Birds Seasons is now positioned to gain themed updates, the first of which features mistletoe and a winter wonderland for the holidays.
Between the previous Halloween edition and the new seasonal additions, Angry Birds Seasons now features 69 levels. If you already bought the Halloween edition, you get Seasons as a free upgrade. Both the iPhone and iPad editions also now integrate with Apple's Game Center network, including support for achievements and leaderboards, as well as sharing via Facebook and Twitter. "A very merry golden egg" surprise is also tucked away somewhere.
Angry Birds Seasons two editions are now available: the iPhone and iPod touch version is $1 and requires iOS 3.0 or later, while the iPad version is $2 and requires iOS 3.2 or later.
Updated at 10:51am PT to clarify that Angry Birds Seasons is a free upgrade to the Halloween version.