The makers of Djay for Mac tune-spinning software have released an iPad version of the app.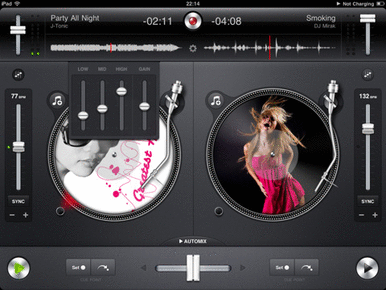 Djay for iPad was launched on Thursday by German developer Algoriddim. The app offers a double-turntable-style user interface with realistic-sounding record-scratching sound effects and direct access to the device's iTunes music library. (The features can be seen in the video embedded below.) Users can record their own mixes, perform live, or set the app to Automix Mode so that it blends the iTunes library into a continuous mix with automatic transitions. In Automix Mode, the app can be run in the iPad's background while users perform other tasks.
The app has other DJ-friendly features, including the ability to see visual waveforms to help you sync songs at specific points, beat detection that allows a user to match the playback speed of back-to-back songs, and "pre-cueing" capabilities to allow a DJ to preview and prepare the next song in a mix while one is already playing.
The app also offers users the ability to stream their mix wirelessly to Apple TV, an AirPort Express, or any AirPlay-supported speaker, AV receiver, or stereo system.
Djay for iPad costs $20, and is compatible with iPads running iOS 4.2.
When you purchase through links in our articles, we may earn a small commission. This doesn't affect our editorial independence.