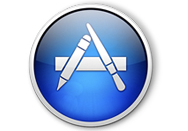 Make no mistake: the news that Apple would be launching a Mac App Store was probably the most significant story to come out of the company's Back to the Mac event in October—or at least the one with the most far-reaching implications. But since that initial push, which promised that the store would open within 90 days, Apple's been largely quiet about the new venture. On Friday, however, it updated its Developer News page with three tidbits of information for developers looking to submit apps.
The first tip deals with creating custom controls inside an app. Apple points out that it provides a built-in set of standard controls as part of OS X's Aqua user interface—and, the company doesn't hesitate to add, they're classy, with "an aesthetically refined use of color, transparency, and animation." Of course, Apple also says that developers can create their own controls, as long as they take into account the section of Apple's Human Interface Guidelines on doing so.
In addition, Apple reinforced that developers shouldn't submit demo, trial, or beta versions of their software for review. Instead, the company says, developers should place those versions on their Websites and reserve App Store submissions for the full retail versions of their apps. That's somewhat of a change from the iOS version of the App Store, which—while it doesn't have built-in support for trial versions—does allow developers to submit "lite" versions of their apps with reduced features. And how exactly developers are supposed to direct users to demos and trials is unclear, especially when there will no doubt be a prominent "Buy" link on every app's page in the store encouraging them to go ahead and purchase the full app.
Finally, the company also draws attention to the requirements for using the file system in a Mac app. Apple says that Mac apps must put their files in appropriate locations—for example, not storing datbases in a user's Documents folder or littering their Library folder with inscrutable files. As so often with Apple, the goal is apparently to "promote a more consistent user experience." The guidelines on file system usage are spelled in more detail on Apple's site.
None of these are necessarily surprising moves by Cupertino, but they do suggest that Apple's approach to the Mac App Store is continuing to evolve. While the company has already opened the doors for developers to submit their software to the store, there are clearly a lot of potential challenges in adapting the App Store model to the Mac, and it's a sure thing that Apple hasn't considered all of them yet. It's even possible the initial batch of submissions prompted some of these clarifications.
With the posting of these clarifications and the encroaching holiday season, I'd guess that the Mac App Store is far more likely to launch near the end of Apple's 90-day window, sometime in mid-January. Until then, however, the speculation on whether the store will be good or bad for both developers and users is sure to continue apace.