Who knew that quaint French towns could become the inspiration for addictive strategy games? The board game Carcassonne, named after a town in Southern France and designed by Klaus-Jürgen Wrede, is a huge hit in Europe. I'd never heard of it before I started playing the iOS version, but in the end it didn't matter—even this American found playing it to be a thoroughly delightful experience.
Ported from cardboard to the iOS by German developers The Coding Monkeys, Carcassonne is a turn-based tile-placing game. Each lavishly illustrated game tile features a bit of territory, which can include buildings, roads, and meadows. When the game starts, you're presented with a game board with a single tile placed on it. With each turn, a player draws a tile and has to play it next to a compatible tile that's already on the board—for example, a city piece next to another city piece, or a road connected to another road. The board takes up the bulk of the screen, though there's a collapsable information bar at the bottom that indicates the current scores.
As the game progresses, you and your opponents take turns placing tiles, as well as scoring points by dropping little game pieces known as "meeple" down on those tiles. The longer the road, bigger the building, or broader the meadow your meeple occupy, the more points you score.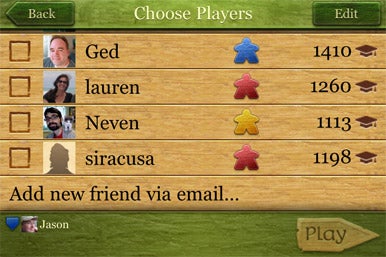 It starts to make sense once you get the hang of it. Presumably players of the board game have a wise Oma to show them the ropes; the Coding Monkeys have built a friendly tutorial to serve a similar purpose. I was able to get up to speed on how to play the game quickly, though I admit that I misunderstood some of the finer points of game strategy.
Scoring rules in particular are a bit arcane—I wish the app did a better job of displaying (at least optionally) what point totals were in play on the board while the game was progressing. As a beginner I was often shocked by how many points were being accumulated without really understanding why.
Rule complexities aside, the game is easy to play—just touch where you want to drop your tile. The game even shows you all the possible legal moves for your tile. Viewing the board works just like you'd expect: you can slide your finger to pan around the screen, and even pinch and spread your fingers to zoom in and out.
Though there's a (really tough) Solitaire mode, the game really shines when you're playing against an opponent or two. You can play against friends via a pass-and-play mode, via your local network, or over the Internet. If no friends are up for a challenge, there are also a variety of artificial opponents (of varying levels of skill and approaches to game strategy) you can play against.
The game graphics are gorgeous. On an iPhone 4 you can see the Retina-level detail in the tiles. Carcassonne is also one of the only iPhone apps I actually enjoy running on my iPad in 2x mode. (A fully iPad-native version will arrive in December along with a price hike—I highly recommend iPad users go ahead and buy the app now.) The app looks so great on the iPad because of a quirk of the iOS: the iPad can take advantage of many high-resolution graphical elements meant for the iPhone. I actually prefer playing Carcassonne on the iPad to the iPhone, even in its current non-native form.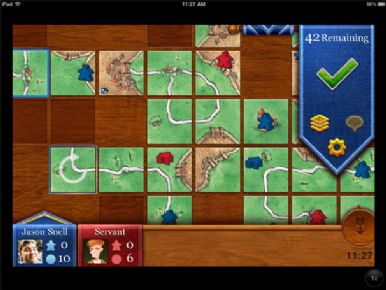 I'm not sure why there aren't more board games being adapted for the iOS, and especially the iPad. With Carcassonne, the Coding Monkeys show how it should be done. It's a great mix of gameplay, graphics, and advanced multiplayer support. Give it half an hour and you'll be counting meeple in your sleep too.
[Jason Snell is Macworld's editorial director.]
Note: When you purchase something after clicking links in our articles, we may earn a small commission. Read our affiliate link policy for more details.