Cirrus Thinking is a developer who released Dolly Drive on Wednesday at Macworld Expo. When you use the Dolly Drive software, it shows cloud storage provided by the developer as available drives in Time Machine. When it's time for Time Machine to run, encrypted files are saved to the cloud.
The Dolly Drive software takes over the management of your Time Machine backups. One improvement the Dolly Drive software has over the standard Time Machine software is that Dolly Drive provides an Inclusion Assistant to help you decide what files to back up.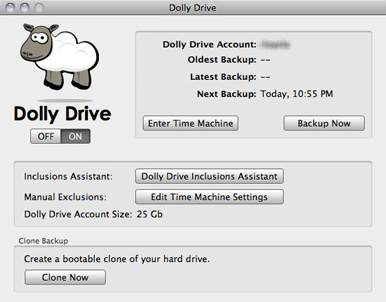 Dolly Drive isn't just about Time Machine. It also can save a bootable clone of your hard drive to an external hard drive—it doesn't save the clone to the cloud, which would take an extremely long time. If you need to restore from a clone, you can use it as your boot disk, and then run Dolly Drive to perform a data restoration.
Limitations in Time Machine, however, prevent Dolly Drive from being more flexible. Since Time Machine doesn't allow for multiple destination drives, you can't easily switch between cloud storage and local storage. Of course, if you were able to configure multiple drives with Time Machine, that would open up a whole bunch of other features that would need to be implemented, such as profile management (saving different sets of files for each drive) and synchronization of Time Machine data between drives.
It's always a good idea to keep multiple backups, though, and Dolly Drive can act as a form of redundancy. We'll have to spend more time with Dolly Drive to see how well it works as the sole primary Time Machine drive.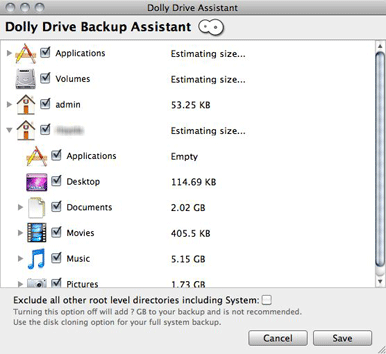 Dolly Drive offers three cloud storage plans. The 50GB plan is $5 per month. The 100GB plan is $7.50 per month. The 250GB plan is $10 per month. With each plan, Dolly Drive increases the capacity 5GB per month as a free "reward" for an active account.