Editor's Note: The following article is reprinted from GamePro.com. For more gaming news, visit GamePro's news page.
The next wave of mobile games that you'll be addicted to were revealed to GamePro this week. We've rounded up the four games that impressed us and tease one title that blew us away.
Traditionally, when a company like EA has mobile games to show off, they'll do it alongside their retail wares. This is typically a bad idea. With almost every media outlet suffering from limited bandwith, unique hand-held titles that might lack hardcore appeal will almost certainly be overshadowed by bigger-budget blockbusters. Thankfully, EA's mobile showcase held last night provided a perfect occasion to show of the company's next wave of iPhone and iPad games, including a mix of console properties re-imagined for the platform and a handful of original games from EA's recently-acquired subsidiary Chillingo. We've picked the four games that most impressed us (that we're legally allowed to talk about), and rounded them up here.
4- TXT Fighter
iPhone & iPad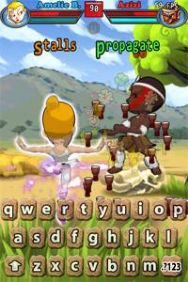 Looking back, Typing of the Dead on the Sega Dreamcast was probably the most ingenious piece of edutainment software of all time. By layering an already-proven survival horror experience on top of a typing tutor, Sega was able to sneakily teach many gamers to become (even more) keyboard-competent. While Chillingo's upcoming TXT Fighter similarly juxtaposes a typing tool with a proven gameplay style (a Street Fighter-esque brawler), the game's strength isn't going to be teaching how to text. For one thing, it's not a required job skill (at least not right now). Additionally, Apple's (usually) spot-on autocorrect renders precision in texting moot. Where TXT Fighter may find a foothold come next week is the fact that it meshes a proven mobile-friendly gameplay method (texting) with a genre that hasn't found a viable way to work without a traditional controller.
3- Monopoly
iPad
Monopoly for the iPad is essentially the same game you've been playing for decades, which is certainly not a bad thing, though the presentation on the iPad is really terrific. One great aspect of the iPad version is that it can be set up for play as a virtual four-sided board, with the player and up to three friends (or AI-controlled opponents) taking turns. The title also offers a "Teacher Mode" for new players, which not only lists all the rules of game, but also strategies to use such as bartering tips and good properties to invest in early on. This mode could also come in handy to seasoned players who want to brush up a bit. Lastly, players can set new house rules to add variety to (sure to be) long play sessions.
2- Neon Battle HD
iPad
Geometry Wars: Touch is inherently worse than its console predecessors simply because there's no conceivable way to replicate the twin-stick shooter experience on a platform with zero sticks. Chillingo found a very suitable alternative with Neon Battle HD – a shape-based space shooter that keeps the ship stationary but manages to match the retro charm of Bizarre Creations'downloadable hit. By putting a turret at one side of the screen, you can focus all of your energy on pointing the cannon at incoming threats. In order to win, you have to destroy the opposing side's shields, which is done by launching missiles with a simple Angry Birds-style "pull back and let go" movement. While not very original, the visual style is very engaging and the gameplay works well on the iPad in both single and multiplayer modes.
1- Rock Band: Reloaded
iPad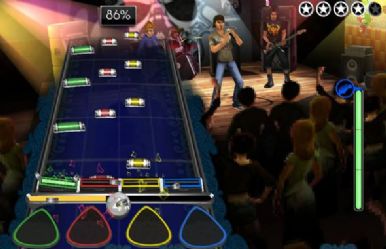 Intrepid mobile music game aficionados are most likely aware that Reloaded has already hit the app store, but for those unsure of what to expect, we've got the rundown. Reloaded features over twenty tracks and offers the ability to purchase more song through the in game music store. Players can take part in four-player local wifi sessions, and yes, this includes vocals. If the idea of singing into your iPad isn't exactly your cup o' tea, Reloaded also offers a full single player campaign, which is rife with achievements that can be instantly shared through Facebook. While the initial song line-up leaves a bit to be desired (or maybe it's just our aversion to bands like Evanescence, 3 Doors Down, Drowning Pool and Seether), there are plenty more coming through the music store.
In addition to these impressive games, one title (which we can't reveal until next month) truly blew us away. We can't reveal any details, but this game's was near console-caliber in almost every respect. Trust us when we say that you'll want to keep an eye out for it.