At a Glance
Expert's Rating
Pros
Good walk-through process
Audio cleaning built-in
78 RPM conversion option
Included audio cable
Cons
Window can't be resized to fill screen
Auto-detect sometimes inaccurate
Our Verdict
At one time, music was commonly delivered not over the Internet, not encoded as zeros and ones on silver discs, but rather impregnated on magnetic tape and vinyl. Packed with analog charm though these tapes and LPs were, they had their problems. Your tapes are degrading even as you read these words. Vinyl is prone to scratches and the playing time of an LP's side is less than half an hour. For these reasons, some owners of tape and vinyl seek ways to digitize their collection. BIAS offers just such a way in the form of its $50 SoundSaver.
Taking steps
Similar to Roxio's CD Spin Doctor, SoundSaver walks you through a series of steps to help you capture your LPs and tapes. You begin by stringing the included 6-foot stereo Y-cable (left and right RCA connectors on one end and a stereo 3mm plug on the other) between your Mac's audio input and the sound source. Such sources could include a cassette deck, amplifier, or pre-amplifier—a direct connection to turntables isn't supported. Then create a new file, click a Next button at the bottom of the window, and check and adjust your input levels on the large meter at the bottom of the window. You can manually adjust levels using an Input Level slider. Or you can choose a loud section of a recording, click an Auto-level button, and have SoundSaver set the input level. You have the option to capture at up to 24-bit and 96kHz.
Click Next again and you initiate the recording by clicking a Record button. Within this pane you can set a time limit—5, 15, 25, 35, 45, 65, 85, 95, or 125 minutes—or choose Max, which causes SoundSaver to keep recording until you either run out of hard drive space or you tell the program to stop recording. You stop recording by clicking a Stop/Record button that replaces the Record button. When you do, you have the option to really stop the recording by clicking the Next button or append more material to the recording—just as you would when flipping the record to record the B side—by clicking an Append button.
The Record pane has one additional intriguing element—a 78 RPM Speed Correction option. Switch this on, drop the needle on a 78 RPM record playing at 33- or 45 RPM, and record. SoundSaver will alter the speed and pitch of the recording so that it sounds right. (Of course if you have a turntable that plays natively at 78 RPM you don't need this feature as it provides only speed and pitch adjustment.)
Click the Next button again to move to the Clean pane. Here you can use controls to remove clicks and crackle, sample and reduce noise, remove hum, and enhance the audio by boosting preselected frequencies. BIAS's SoundSoap audio-cleaning technology underlies this step.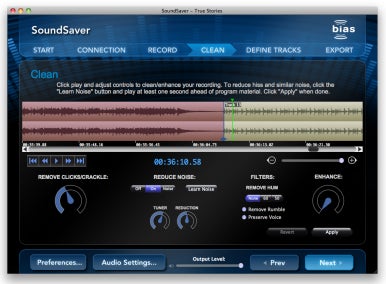 One more click of the Next button shows you the Define Tracks pane. As in the previous pane you see play controls for auditioning the captured sound as well as a waveform that displays volume peaks and gaps (which usually indicate the silence between tracks). In this step you can choose to automatically or manually define tracks. When auto defining tracks you can adjust the minimum silence and duration between tracks and the silence threshold. By default, SoundSaver looks for gaps of two seconds, but you can increase or decrease this value to better locate gaps. Whether you define tracks automatically or manually, you can adjust the start and stop points for each track by dragging handles.
Once you've defined your tracks you can then click an ID3 button. When you do so, a window appears where you enter track, artist, album, composer, and genre information to tag the track. Better still, you can select all the tracks, enter album title and artist information, and click the Download Album Info button at the bottom of the window. SoundSaver accessess MusicBrainz metadatabase and attempts to match the information you've entered with music in its database. Select a matching results, click OK, and track titles, album title, and artist are assigned to the tracks you've captured. (Naturally, for this to work correctly you must correctly parse the tracks.)
Finally, click Next a last time to export your tracks. You can export your tracks as MP3 files, a current iTunes setting (AIFF, MP3, AAC, or Apple Lossless), a WAV file, or as a SoundSaver project that you can open later. When you choose the iTunes option, tracks are automatically added to your iTunes library when you export them.
In practice
For the most part, SoundSaver delivers. It's easy to use, with a little tweaking the cleaning option produces good results, and its ability to auto-tag music is a godsend. I also like the 78 RPM Speed Correction feature. I have a stack of 78s in my collection and encoded a couple of them. Given that the records were pretty badly beaten up and my record player's stylus isn't designed for a 78's wider grooves, SoundSaver produced listenable results.
I do have a couple of quibbles, however. The main one is the size of the SoundSaver's window. It can't fill the screen and that leaves you working in a needlessly cramped environment. This is least convenient when you're trying to zero in on a particular place in a sound wave so that you can accurately split a track. Although you can zoom the sound wave display, it's still a small area in which to work. I asked BIAS about this and the company said that the target user doesn't care about large wave forms—that they might be confusing to novices. That's possible. But assuming everyone benefits from an easy-to-use digitizing application, why limit those who face wave-form displays with no fear?
My other quibble is with the auto-define feature. While SoundSaver does a reasonable job of identifying tracks where there's a clear gap, I saw too many instances of it misplacing markers—often just a smidgen after a track had started. This means moving to the wave form and adjusting beginning and end points more often than you may care to. That said, no audio program I've used perfectly defines tracks automatically. Others, as well as SoundSaver, occasionally make mistakes and create too many or too few tracks. Adjusting track lengths is currently an occasional and regrettable part of the bargain.
Macworld's Buying Advice
Frustrated though I am with SoundSaver's enforced window size, it has a lot going for it. The workflow is logical. The ability to clean up tracks as one step of the process is welcome. Just as welcome is the ability to auto-tag tracks. And while a lot of people will never have the need to encode a 78 RPM record, I very much appreciate that BIAS included the option. My hope is that in a future update the auto-define feature becomes more accurate, but again, I've yet to find the perfect solution in a product offered at this price. If you have records and tapes that you'd like to preserve in digital form, you owe it to yourself to download the 14-day demo to see if SoundSaver's a good fit for you. (BIAS notes the following on the demo: "SoundSaver will fade the volume to silence periodically when auditioning audio cleaning. Export Audio and Apply Audio Cleaning are also disabled in the trial version of SoundSaver.")