At a Glance
Expert's Rating
Pros
Compact for a high-zoom camera
Great modes for high-speed shooting
Extremely easy to use
Creative modes that mimic tilt-shift, isolate colors
Good macro performance
Cons
Disappointing image quality
Maximum aperture is f/3.4
No manual controls for shutter and aperture
Lens skimps on the wide-angle end (36mm)
Overpowering built-in flash
Slow start-up-to-first-shot time
Poor battery life
Our Verdict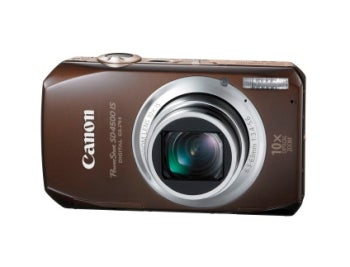 The 10X-optical-zoom Canon PowerShot SD4500 IS ($350 as of November 15, 2010) is one of five high-zoom compact cameras in Canon's point-and-shoot lineup, and its pocketable size, ease of use, and fun creative effects give it a lot of mainstream appeal. It boasts great modes for high-speed shooting, making it a versatile camera for fast-action shooters (just as long as they can live with lower-resolution video and stills for high-speed shots).
However, this 10-megapixel camera's appeal comes at the expense of trade-offs, and more-demanding users will find that the compromises go beyond the camera's lack of manual controls. The SD4500 IS turned in disappointing scores for image quality in our subjective tests–a real surprise, given Canon's past success in that area–and the camera also has an overpowering flash that negatively affects color accuracy and exposure quality. The company seems to have skimped on wide-angle coverage and maximum aperture, and the SD4500's low-light shooting modes could use a bit of work.
All in all, this is a decent camera that offers fun features and easy operation for novice users, but its $350 price is high considering its shortcomings.
Hardware and design
Although it holds a 10X-optical-zoom lens (36mm to 360mm), the PowerShot SD4500 IS is fairly compact. At 4.0 by 2.3 by 0.88 inches, it's one of the most pocket-friendly high-zoom cameras we've seen to date. Covered in a metal-plated plastic frame, it weighs 6.7 ounces with the battery and SD/SDHC/SDXC card loaded. The SD4500 feels sturdy enough to withstand travel-related jostling, and it's small and light enough to stick into a shirt's breast pocket without a problem.
The SD4500 IS lacks a raised hand grip, but it borrows a few aesthetic and ergonomic traits from Canon's PowerShot SD4000 IS that make it feel secure in the hand. The contoured edges on the shutter-button side serve as resting places for your index finger and middle finger, and make it a comfortable model for one-handed shooting.
Maximum aperture settings range from f/3.4 on the wide-angle end to f/5.6 at full telephoto, with a minimum aperture of f/8.0. We would have liked to have a wider aperture (and a wider-angle lens) to work with, but the SD4500 IS still produces a dramatically shallow depth of field in macro mode.
The 0.43-inch, back-side-illuminated CMOS sensor offers a 10-megapixel resolution as its highest-quality setting. It does a serviceable but somewhat disappointing job of harnessing light in near-pitch-black settings, especially given the camera's array of low-light shooting modes. Not only do you get three separate scene modes for low-light shots, but you can also adjust ISO manually up to 3200 in Program mode, and the camera has an insanely powerful built-in flash. (See the "Shooting Modes and Features" section below for the results of each of these options in a very dark environment.)
The only viewfinder is a 3-inch LCD, which is bright and sharp enough to see in most lighting conditions. The camera also has built-in accelerometers that adjust the playback orientation from landscape to portrait depending on how you hold the camera.
Controls consist of an easy-to-learn, well-spaced array of buttons and switches on the top and back of the camera. The top houses a switch that lets you toggle among video mode, user-controlled settings and scene selections, and auto mode. The shutter button and zoom control ring are on the top right side.
On the back of the camera are a dedicated video-recording button, a menu button, and a playback button, as well as a rotating and clickable navigation wheel. The navigation wheel is a notable improvement: It isn't as loose as the one on some recent PowerShot cameras, which helps avoid accidental menu selections. The wheel on the SD4500 IS clicks into place nicely at each stop, and it's immediately responsive to navigational presses on the top, bottom, and sides.
You won't need to look at a manual at all to get the hang of this camera, and on-screen text explains each scene mode clearly–including information about scene modes that negatively affect image resolution.
Shooting modes and features
The PowerShot SD4500 IS certainly isn't lacking in scene modes and automated settings, which makes up quite a bit for the no-show manual controls. Some of the scene modes and settings work better than others, but they're a net plus in terms of the camera's versatility.
The marquee feature is the camera's high-speed shooting modes, which rival those of the Casio Exilim EX-FH100 and other High-Speed Exilim cameras. The SD4500 IS can reel off 8.4 shots per second at a reduced 2.5-megapixel resolution. Even more fun is the superslow-motion movie mode, which captures 320-by-240-pixel video at a whopping 240 fps, and then plays it back at 30 fps to slow a second's worth of footage down to 8 seconds of video. Everything looks better in superslow motion, even if the on-screen action looks much less sharp than in your average HD video.
Macro shooting is another standout feature, as the camera can focus on a subject within about a half-inch of the lens. Despite the relatively narrow maximum aperture, macro shots display a dramatically shallow depth of field, and the SD4500 IS's autofocus has no trouble locking in on extreme close-ups.
The PowerShot SD4500 IS also offers a Miniature Effect mode, which you can use when shooting both stills and video. It mimics the effects of a tilt-shift lens, blurring out both the top and bottom of the image to make full-size objects look like scale models. In this mode, you can adjust the horizontal focal plane to sharpen or blur out different areas of the image, too. It works well, and experimenting with different focus areas while using the mode is fun.
In Miniature Effect movie mode, the camera captures 720p video at 6 fps, 3 fps, or 1.5 fps, and then plays back the clip at 30 fps, speeding up the action to make it look like an old-timey movie. When shooting video in Miniature Effect mode, it's best to use a tripod, leave the camera in one place, and allow it to record for at least five times longer than you would for a normal video; the resulting clip will be much shorter than your actual recording time.
Low-light shooting is a major focus, as the SD4500 IS has several scene modes for capturing low-light shots. Unfortunately, none of the modes work quite as well as adjusting your shutter speed or ISO levels manually.
The best of the low-light scene selections is Long Shutter mode, which requires the use of a tripod and comes close to being a shutter-priority mode (but not quite). After selecting the scene mode, you navigate to another menu entry to choose from shutter speeds of 1 to 15 seconds. It would have been great to be able to use the scrollwheel to adjust shutter speeds on the fly while composing the shot in Long Shutter mode, but that isn't an option. The camera locks into Auto ISO settings in Long Shutter mode, choosing the lowest ISO possible for the shot and often leaving it underexposed. Manual ISO adjustments in this mode would have been useful.
Handheld Night Scene mode is another option, and although it's similar to Sony's Handheld Twilight Mode, it isn't quite as effective. The mode takes multiple shots in rapid succession at different exposure settings, and then combines them in the camera to create a more-balanced exposure than you'd normally get in low light. For some reason, however, the camera jacks up the ISO in Handheld Night Scene mode, and the resulting shot has a lot of grainy noise. The mode brightens up the scene well, but it does so at the expense of sharpness and detail.
Although Handheld Night Scene creates a full 10-megapixel image, the camera's Low Light scene mode uses pixel binning (it combines adjacent pixels on the sensor to reduce noise in low-light shots) and knocks image resolution down to 2.5 megapixels. Graininess is even more of a problem in this mode, and it creates an even-less-sharp image than Handheld Night Scene without the advantage of brightening up the scene much.
Shutter lag is a concern outside of the camera's high-speed burst mode: The time from startup to first shot is a frustratingly slow 3 seconds, owing to a Canon splash screen that displays for a while before the camera is ready to capture. You can disable the splash screen, but all that does is make the camera display a black screen for a few moments at startup rather than kick the camera into capture mode immediately.You can manually adjust the camera's ISO sensitivity to 3200 in Program mode, and the camera's Auto ISO adjustments reach up to ISO 6400. Shooting at high ISO was just as effective as any of the low-light scene modes, given the graininess of the images in both Handheld Night Scene and Low Light modes and the lack of ISO adjustments in Long Shutter mode.
Other scene modes include a Best Image Selection setting similar to Nikon's Best Shot Selector (the camera snaps several 2.5-megapixel images in a row, and then picks and saves the best shot of the bunch), a Color Accent setting (which lets you isolate a single color in a still or video, while the rest of the image appears in black and white), and a wink-triggered self-timer mode (once someone in front of the camera winks, the camera automatically snaps a shot after a short delay). The usual array of scene modes and settings are also in the mix, such as Portrait, Kids and Pets, Fisheye, Panorama Stitch Assist, Fireworks, Super Vivid, and several color filters.
Performance, image quality, and video quality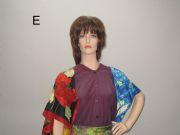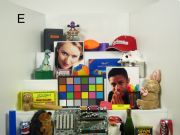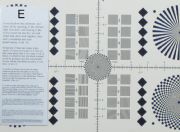 For the past few years, Canon's PowerShot cameras have consistently scored well in In PCWorld Labs subjective testing for image and video quality, but the SD4500 IS turned in surprisingly mediocre scores. We can attribute much of that to the camera's extremely powerful flash, which washed out details and affected color accuracy in our test images.
In our tests, the PowerShot SD4500 IS received scores of Fair for exposure quality, color accuracy, and sharpness. Lack of distortion was more of a strong suit, as the SD4500 IS posted a score of Good in that category. But the bottom line is this: The SD4500 IS had the second-lowest image-quality score among all pocket megazoom cameras we've tested in 2010, outscoring the sub-$200 Fujifilm FinePix JZ500 by just a single point.
In my hands-on tests, image quality was much less of a downer. The SD4500 IS shot vivid, crisp images in broad daylight, and the camera's optical image stabilization did a great job when I pushed the zoom to the max. We perform our standard lab testing indoors in Auto mode with the flash powered on, and the SD4500 IS doesn't do nearly as well in those conditions.
In video mode, the SD4500 IS shoots 1920-by-1080-pixel high-definition video at 24 progressive frames per second, saved as .mov files. Overall video quality was also an unpleasant surprise, as graininess and washed-out colors were evident in clips we shot in bright light, and footage looked snowy and choppy in low light. The camera earned a score on the cusp of Fair/Good in our subjective video tests; we rated its audio capture through its top-mounted mono microphone as Good.
Outside of the lab tests, footage that we shot outdoors in daylight looked much better. You can also use the full extent of the camera's optical zoom lens while shooting. Autofocus searches a bit at different points in the zoom range, but it does an admirable job of keeping the image crisp while you're zooming.
Battery life is a major shortcoming for this camera. The PowerShot SD4500 IS takes just 150 shots per charge of its lithium ion battery, for a rating of Poor. As many point-and-shoot cameras offer 300 or more shots per charge, this camera isn't even close to being a contender in that respect.
Macworld's buying advice
Lackluster scores for overall image quality, poor battery life, a lack of manual settings, and a not-very-wide-angle lens drag down our rating for the Canon PowerShot SD4500 IS. That said, it's a decent option in the realm of pocket megazoom cameras if you're looking for high-speed shooting, versatile scene modes, good macro capabilities, and strong performance in broad daylight.
But the price isn't right for its overall performance level. More-advanced photographers looking for a pocketable high-zoom Canon camera with better image and video quality, manual controls, and a similar range of scene selections (minus the high-speed shooting) would be better served by the Canon PowerShot SX210 IS—which costs $50 less and offers nearly twice the battery life.