Skitch, the unique screenshot tool and sharing service, has finally left its extensive testing period that was giving Gmail some competition for the crown of "longest beta ever." The app received a slew of new features and an interface overhaul for its 1.0 debut, as well as a paid option that unlocks some features and better integration with the Skitch.com Website.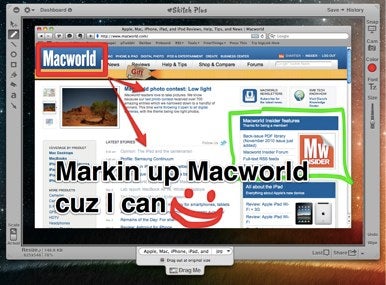 Skitch, for those who haven't used it, is a tool for quickly snapping screenshots or photos with your Mac's iSight camera, adding annotations with drawing and text tools, and sharing your creations on the Web either publicly or with private URLs. You can upload images to Skitch.com, MobileMe iDisk, Flickr, or your own FTP Webhost. It's great for sharing interestingness with friends, odd behavior with tech support, or crafting your latest lolcat masterpiece.
Skitch 1.0 gained a number of new features since its latest beta (released in early November), though some of them can only be unlocked if you pay up for the new paid Skitch Plus plan. If you share an image to Skitch.com, you can now pick what kind of URL to automatically copy to the clipboard: the Skitch.com link, a direct link to the image file, or a forum-friendly embed link. A new template system makes it easy to constrain or crop images to specific dimensions, full Website snapping with Safari lets you capture an entire page no matter how tall it is, and a complete interface overhaul gives Skitch a fresh look with some useful polish and more identifiable icons.
The Skitch.com site also got a lot of attention for the app's release. You can now create multiple image "sets" to group your shots, follow other Skitch users to keep up with the images they share publicly, and mark images as favorites to show your appreciation or easily find them later. The site now has a search box that can sift through just your stuff or the entire Skitch community, and there is lots of new social integration like posting to Facebook and auto-generated "mini-links" for Twitter. You can also change an image's title, description, tags, and set at the Website or from the Skitch app, even after you upload it.
Skitch took almost four years to go 1.0, and now that it has, the company finally shared its pricing model. The Skitch app and many of its snapping, editing, and sharing features are now free, as is usage of the Skitch.com Website. But some key app and Website features—such as automatically copying a custom sharing link to the clipboard, custom watermarks, cropping templates, image quality settings, and some editing tools—require a paid Skitch Plus yearly subscription. Skitch Plus is usually $20 per year, but for a limited time you can get it for $15.