Google on Monday added another volume to the e-book saga with the introduction of the company's eBookstore. The retail operation, first announced in May for launch in the summer, falls under the umbrella of Google Books and boasts more than 3 million titles, ranging from current bestsellers to classics.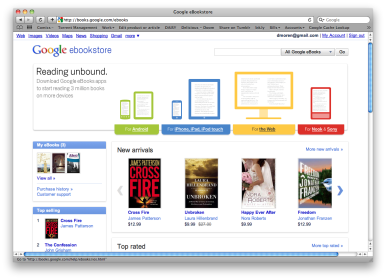 As always, the company's watchword is "open" and Google says its venture into e-books subscribes to that philosophy: the books are designed to be available on all manner of devices, including laptops, smartphones, and tablets. Books are stored directly "in the cloud," allowing access via your Google account, and there's no limit on how many you can store. At first glance, prices appear to be competitive with other e-book vendors: titles sell at a variety of prices, with the lowest I saw around $4 and the highest around $20—most, however, seem to be at the same $10 price point you'll see elsewhere. There are also an assortment of free titles.
The company says that in addition to a Web-based reader, it's created free apps for Android and iOS devices, allowing for mobile shopping and reading (the iOS app was not yet available for download at this writing, but is apparently due in the App Store shortly). Staple features like font face and size, day/night reading modes, line-spacing, and picking up where you left off on another device are also supported, though Google specifically says these will be available "for many books." Google is also giving its users three free titles: Great Expectations, Alice's Adventures in Wonderland, and Pride and Prejudice.
In an interesting move, Google isn't the sole retailer for Google e-books: the company is also partnering with independent booksellers such as Powell's, Alibris, and many members of the American Booksellers Association. As a result, you can pick which vendor you want to buy your e-books from—but they still all end up grouped together in one location, for simplicity's sake.
All of this marks a change in strategy from the original—and somewhat contentious—idea behind Google Books, which involved working with libraries and publishers to digitize collections from around the globe. The company says that all of the more than 15 million works it scanned from those sources will continue to be searchable alongside the eBookstore.
Google's launch also means another heavyweight player in the increasingly crowded e-book field, whose roster already includes Amazon, Barnes & Noble, and, of course, Apple. For consumers, though, this is potentially a big positive: more vendors means more competition, and more competition encourages companies to constantly improve their products as well as to drive prices down.
Of course, that comes with its own trade-offs. In the real world, for example, you can buy your e-books from any number of vendors, and they all end up on the same bookshelf: in the digital world, it looks like you'll have to bounce back and forth between your Kindle, iBooks, and Google Books apps in order to get the whole story. At least, for now.