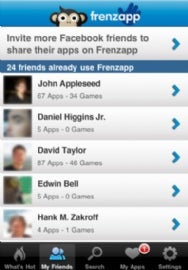 An app-recommendation service for the iPhone has been updated with deeper Facebook integration and, for the first time, the ability to suggest apps to friends via Twitter.
Frenzapp, from Bitsmedia, was already "Facebook-powered": it let users mark their favorite apps that they already owned, then prompted them to share that information with posts to their Facebook walls. Sunday's update apparently makes Frenzapp one of the first apps to utilize that service's new "single sign-on" tool. That allows owners of multitasking-enabled devices to simply sign into the Facebook app once, then let other apps (including Frenzapp) request permission to use that account. In other words: there's no longer a sign-in process for Frenzapp users to share their apps via Facebook.
There is a sign-in process for Frenzapp users who want to share their suggestions via Twitter, but they might be glad for that: the first edition had no Twitter integration at all. Other updates to the app include notifications when Facebook friends join the service, a "shake to share" feature that lets users share apps with nearby friends, and, Bitsmedia says, an easier setup screen for new users.
Frenzapp is available in the App Store for free. It requires an iPhone, iPad or iPod touch running iOS 3.0 or later.