Loopt has released an update to its location-aware social network app, Loopt, that improves the app's friend- and place-finding capabilities with new features and a revamped design.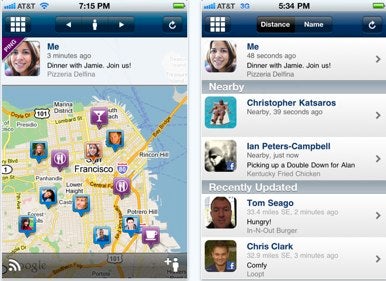 Loopt uses your phone's location services to place you on a map and show you where your friends are and what they're up to. Similar to apps like Gowalla or Foursquare, Loopt lets you broadcast your location to your friends, view your friends' favorite places to visit, and receive alerts when friends are nearby. The app also integrates with Facebook Places, letting you keep tabs on friends who use the service.
New in Loopt 4.0 is a feature called Notifications, which provides a feed of the latest Loopt activity in your network—like nearby places your friends like to go—and lets you respond to Pings and friend requests, and see nearby rewards.
Loopt has also expanded its background location-sharing settings, letting you turn it on or off for individual friends. This means you can share your location with your close friends and family at all times, even when the app is not running, while allowing others to see your location only when you sign into the app.
You can also now add text to Ping messages, which previously only requested a friend's location. This should lessen the need for back and forth meet-up text messages like "where are you?" and "almost there" by letting you pair such messages with a map of your location. Loopt has also beefed up its friend list sorting options, letting you sort by Name, Nearby, and Recent.
Loopt is a free app and runs on iOS 3.1 or later.