Oranged Software has updated Studiometry Touch, a business management companion to its Mac and PC clients, with a dozen new features and improvements, including an iPad version.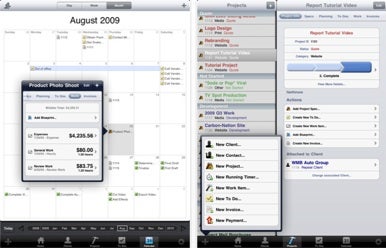 Previously native to only the iPhone and iPod touch, Studiometry Touch is now a universal app for the iPad as well: you can now manage projects, edit shared calendars with fellow employees, send invoices, and track time, expenses, and clients from any of Apple's iOS devices.
Also new in Studiometry Touch 1.5 is a variety of new features and tweaks, including the ability to set a passcode to protect your data, tweaks to editing text fields and picking times, and bug fixes. These are in addition to existing features like syncing over-the-air with Oranged Software's desktop clients and sending invoices using templates you customize with the Mac and PC versions.
Studiometry Touch is a free app, though it requires a $40 license per device per year to sync with Studiometry for Mac or PC, both of which also offer free trials. Studiometry licenses start at $200 for a single user; multi-user packs start at $925 for five licenses. Studiometry Touch requires iOS 3.0 or later, while Studiometry for the Mac works on Mac OS X 10.3 Panther or later.