If you haven't kept up with novelties from the 1970s, you might be surprised to learn that Shrinky Dinks, plastic cutouts that shrink and harden into three-dimensional trinkets when baked in an oven, are still going strong. Today's Shrinky Dinks let you print custom images onto specially coated paper, making them a great way for you and a child (or a small group of kids) to create unique gifts and holiday decorations with your Mac. Here's how to get the party started.
Gather materials
You'll need special Shrinky Dink paper for inkjet printers (laser printers won't work since they generate too much heat). It's available at craft stores like Michaels, A.C. Moore, Amazon.com or directly from the Shrinky Dinks Website. Six sheets of 8-by-10-inch paper cost me $11, but packages and prices may vary. You might also want to apply a clear acrylic spray to finished trinkets to make their printed designs more durable. You'll also need a pair of scissors to cut out your images, and a page layout program to adjust and resize images for printing. I used Pages '09 with iPhoto '09 to organize my pictures.
In iPhoto, review your photo library with your child and collect pictures he or she would like to use. Then select File -> New -> Album and drag photos into the album. (In iPhoto '11, you must first select at least one image, and then follow the above procedure or click the Create button at the bottom of the window, and choose Album from the pop-up menu. After that, you can drag any images you choose into the new album.) Finished Shrinky Dinks will be small, so look for images that would make good wallet-size prints. Of course, almost any image that strikes your child's fancy will do.
Prepare your pictures
Now, prep your pictures in Pages. Select File -> New From Template Chooser, then pick a blank Page Layout canvas. Select View -> Show Media Browser, then click the Media Browser's Photos button to find your album. Drag pictures onto your pages, and expect to fit two onto each page. Add additional pages by choosing Insert -> Pages -> Blank. To make more room on each page, crop pictures by selecting them, then choose Format -> Mask and drag the resulting box to the desired size. Click the page when you're done. You can also choose Mask With Shape to print your picture in a decorative shape, like a diamond or a star.
Images shrink to roughly one-third their printed size when baked, so resize each picture depending on how large you and your child want each Shrinky Dink to be. For example, my printed images were each six inches long, resulting in Shrinky Dinks of roughly two-and-a-quarter inches long. Select a picture, then choose View -> Show Inspector. In the Inspector's Metrics section, click the Constrain Proportions checkbox and enter the desired print size.
Because pictures darken as they bake, they must be printed much lighter than conventional photos. In the Inspector's Graphics section, find the Opacity slider. Select each image, then move the Opacity slider to fifty percent. Your pictures will appear washed out on the screen and the page, but they'll look correct after shrinking.
Print and bake…and beyond
Your Shrinky Dink inkjet paper will come with specific printing and baking instructions. For instance, I had to set the media type to transparency in my print settings and preheat my oven to between 275 degrees and 300 degrees. The recommended baking time was approximately five minutes or until printouts flatten (until they reach their smallest size, Shrinky Dinks curl dramatically as they bake). My paper also included tips and gift ideas for making Shrinky DInks more fun and interesting. Some of my favorites include cutting around the outline of a subject to create freeform shapes, putting a one-eighth-inch hole in printouts to shrink them into ornaments or jewelry that can be hung on string, and gluing magnets to finished pieces to make handy refrigerator decorations.
As you and your child experiment with different gift ideas, you can also try new designs in Pages––like colorful borders and shapes––to further customize your pictures. If you add these extra touches, don't forget to size them appropriately for the dimensions of your finished Shrinky Dinks, and make sure to lighten their colors in the Inspector's Graphic section before printing. Happy shrinking!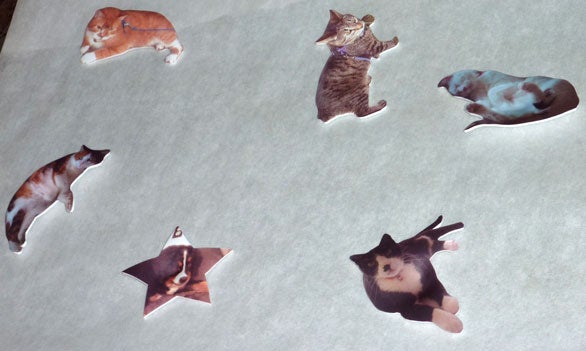 [Adam Berenstain is a freelance writer in upstate New York.]